As we move towards autumn, chances are that your dog walks are likely to become a fair bit wetter and muddier. That should never stop you from taking your dog to stretch their legs outside, but it may call for added protection for your car. Here at the Hatchbag Company, we know how important it is to find the right mat to protect your car, so we're always looking to provide the best options.
Thankfully, there are a range of boot protectors and dog car mats on the market, so today we're going to look at the best car mats you can get your hands on. Whether you're looking to protect the car from mess, from smell, or just to give your dog a more comfortable ride, we'll help you to find the best options to benefit your dog and keep your car looking its best.
Rubber Mats
A rubber mat isn't specifically designed for dogs, but does offers a range of benefits for any dog who is likely to make your boot wet, whether because they've been out running through wet terrains, or are yet to be fully toilet trained. They offer waterproof protection to your boot, as well as being designed to reduce the chance of your soggy dog slipping around in the boot as you turn corners.
There are many options on the market, but here at the Hatchbag Company, we have developed our range of elite rubber mats to sit over the base of our Hatchbag boot liners, each designed specifically for an exact car make and model. While our rubber mats are only available in black, they're able to complement our range of boot liners, available in colours including blue, brown, grey, pink and red.
We would recommend the rubber mat as a suggested dog mat choice for heavy use. The top surface of our rubber mats features a Penny/Stud design that is innovatively designed to reduce slip, but also allow objects to move across the mat's surface without snagging or ripping it. Meanwhile, the underside of the mat is textured to eliminate any slip between the boot liner and the mat.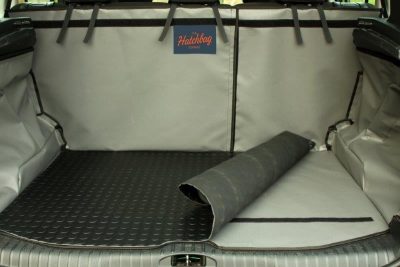 Odour Control Mats
It is inevitable that your dog is going to get a bit smelly from time to time, especially when they get wet. As we've covered already, the autumn and winter months bring particular consideration for damp and dirt, which in turn bring a range of potentially 'interesting' smells!
There are a variety of odour control mat options for the home, designed for dog beds and other sleeping areas, but the options for cars are more limited. Or at least, they were. The good news is that here at the Hatchbag Company we've developed a quilted blanket-style odour mat which offers comfort as well as containing activated carbon that is built to absorb and eliminate bad odours.
Any odour control mat we produce will be tailored to fit perfectly inside the bespoke Hatchbag boot liner for whichever make and model of car you own. Additionally, all of the odour control pet mats we sell feature a special finish that repels both hair and dirt. The mats are available in black, which provides a stylish complement to the range of colour options our boot liners provide.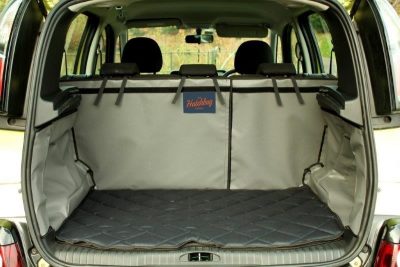 HatchBed Mats
We've covered dealing with wet, and with smell, but what if you're looking to offer your dog the height of comfort as they travel? Here's where we can offer another option that really sets us apart from the general market for dog mats.
We offer an option called the HatchBed – see what we did there? -  that offers a soft pile rug-style lining of around 25mm depth. Even better, they come in three main size options which are designed and tailored to fit inside the specific boot liner match for your vehicle.
HatchBeds utilise a unique non-slip ribbed rubber backing to ensure they stay securely in place and let your dog fully relax and even snuggle up on their comfy new surface. HatchBed mats are washing machine and tumble drier suitable and supplied in pairs, so you always have a clean/spare one.
It's no wonder that our HatchBed mats are recommended by many Vets and pet care professionals, with many clients attesting to the fact that their dogs have never had a more comfortable ride. Our selection of HatchBed mats are only available in charcoal colour at present, but again, the classy colour and design combination allows them to fit perfectly with a range of boot liner colour options.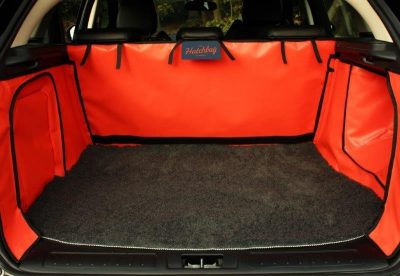 We hope this has provided a helpful overview of the best dog car mat options you can employ. We love seeing dogs well cared for and are aware that this has previously been overlooked when it comes to car journeys, which can be an anxious time for many dogs.
With that in mind, we've put together a range of car mat options that provide your dog with the best possible surfaces to make them comfortable, while providing your car with ideal protection. We hope you enjoy taking a look across our range and finding the ideal option for your car and your dog.