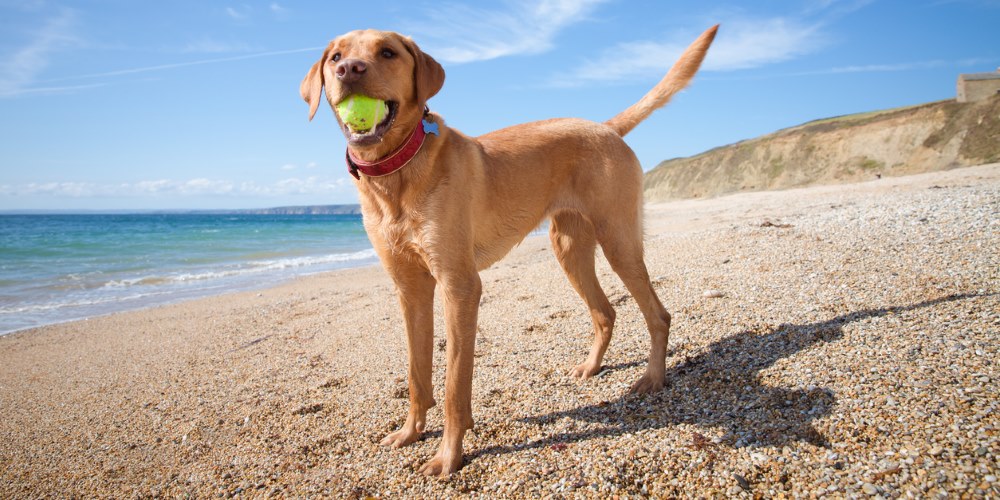 No family holiday is complete without the dog, which is why almost a third of owners choose to take their pooch with them when they go on a UK break. This was revealed in a survey we carried out among dog owners to find out how their canine companions affected their holiday decisions.
Sadly, 19% of people who responded admitted that they rarely went away. This isn't altogether surprising—until recently, the availability of decent-quality pet-friendly accommodation had been extremely limited. Leaving your dog in the care of boarding kennels or a pet sitter can significantly increase the overall cost of the trip, not to mention fill you with shame! A survey carried out by Mintel found that almost four in 10 pet owners feel guilty about leaving their dog when going on holiday.
The best of both worlds
Thankfully, the days of compromising on the standard of your accommodation in order to include your pet are becoming a thing of the past. Holiday providers are finally realising there's much demand for high-quality, pet-friendly accommodation, and the number of premium hotels and holiday homes welcoming four-legged friends is growing rapidly.
Nicky Burton, founder of All Four Paws, specialises in finding the very best pet-friendly venues for holidaying with your pup. Here she explains why taking your pet away with you has never been easier:
"The rise in 'pet-friendly' holidays has meant there are so many wonderful destinations to enjoy together, from hotels to eateries and many adventures beyond. Travelling with your dog may feel a little daunting at first but ultimately they love being by your side and you'll have a wonderful time exploring new surroundings and making new friends together, of both the human and hound variety!"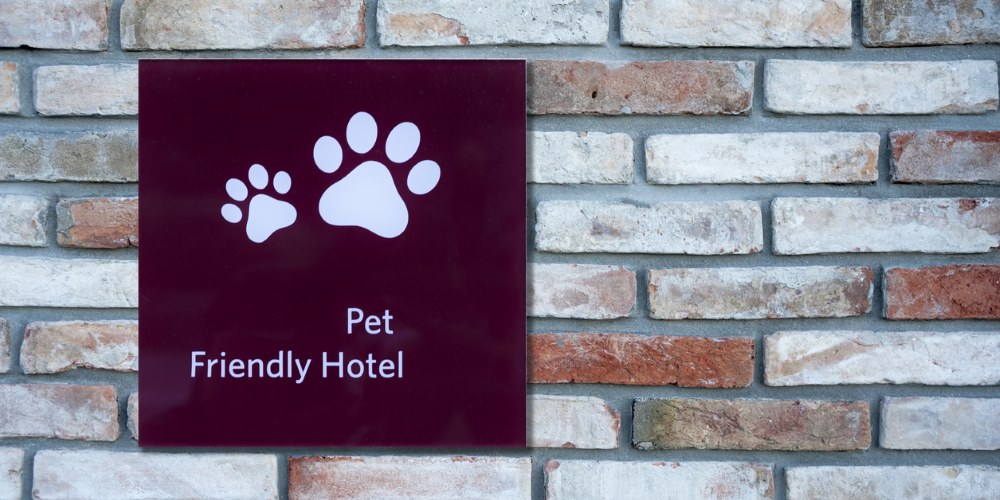 What to look for in dog-friendly holiday accommodation
With an abundance of pet-friendly destinations available, it can be difficult to know what to look for. Finding somewhere that welcomes—as opposed to merely tolerates—your dog will make your holiday so much more comfortable, as Nicky explains:
"Venues that truly welcome dogs are vital to us. They should welcome every member of the family with open arms so that everyone is at ease, can relax and have a wonderful time together."
Here are our top tips for what to look out for when selecting your holiday venue:
1. Do your research
There are lots of pet-orientated blogs dedicated to travelling with your dog. Learn from other pet owners' experiences—they will be able to offer unbiased advice on the places that claim to be pet-friendly and the ones that actually are.
2. Filter your search to meet your needs
Specialist pet travel websites such as All Four Paws have already done the legwork and can recommend places that will suit your whole family's needs. Alternatively, mainstream holiday sites let you tailor your search to include only 'pet friendly' or 'pets allowed' options.
3. Call ahead
Get a better idea of what you'll find when you arrive at your destination by calling the hotel or person responsible for the accommodation directly and asking a few questions. For example:
Do you have any restrictions as to the size, breed or age of dogs allowed?
What's the policy for bringing more than one dog?
Do you charge extra for dogs? Are costs per night or per stay?
Are there any areas in which you don't allow dogs?
Are there any rules about where the dog can go to the toilet?
Can we leave dogs in the room/property unattended?
Do we need to put our dog in a crate overnight?
Do you provide any pet extras, such as bowls, bedding, towels etc?
4. Research the surrounding area
Once you've found the perfect pet-friendly accommodation, it's well worth checking that the surrounding area is equally accommodating. Being near pet-friendly beaches, pubs and restaurants means you can thoroughly explore the area with your pooch by your side.
5. Distance to the venue
Keep in mind that long journeys may be stressful for dogs and they're likely to need several stops along the route to stretch their legs, go to the toilet and have a drink.
Winding country roads can make dogs travel-sick, so always research your journey to find the smoothest routes with plenty of available stop-off points. Nicky agrees:
"Regular stops are good all round—we certainly need them too! Make time to let your dog stretch their legs, have a sniff or two and a comfort break. If it's a long trip, we try and make sure our dogs have had a good walk first, then they're ready to hunker down and have a snooze—perfect for a car journey!"
6. Think seasonal
Many beaches don't allow dogs during the summer months. Out-of-season breaks, however, mean you can enjoy long walks on the sand with your pet. You may also find that venues are more accommodating to pets in the quieter months.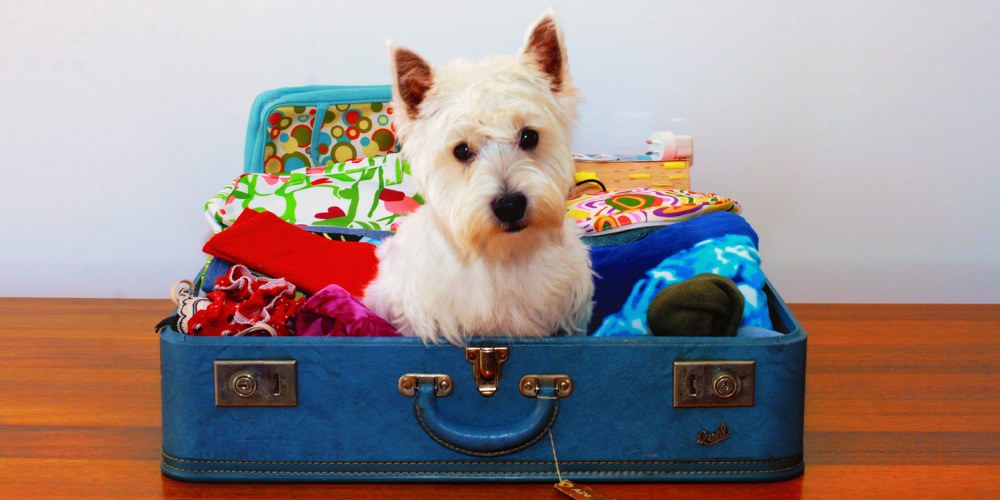 Top tips on what to pack
Whether you're off on a short trip or a longer break, packing smartly will ensure your dog has everything they need to settle into the new environment. Here are our suggestions:
Eating and sleeping
Dog food and bowl—Take enough of your pet's favoured food and treats (particularly if they require a specialist diet) to last your entire stay. A plastic mat to go beneath the bowl will help keep flooring unsoiled.
Basket/bed—Bringing your dog's own bed will add a touch of familiarity, as Nicky explains:
"We find that dogs like to have some familiar smells and some beloved items with them to help them relax in their new surroundings. Our spaniel guru Rigby loves to have a taste of home with him, whether that's his bed, the blanket he loves to snuggle in or his favourite toys."
Dog crate—If you transport your dog in a crate, it can double up as a bed for when they go to sleep at night. This will also stop them from getting up to mischief if you leave them alone in the accommodation for a short time.
Packing list
Eating and sleeping
☐ Food, treats, bowls and mat
☐ Dog bed/basket
☐ Familiar toys and blankets
☐ Dog crate
Out and about
☐ Collar/name tag
☐ Leads (long and short)
☐ Water bottle and bowl
☐ Wipe clean bootliner
☐ Poo bags
☐ Dog seatbelt or harness
☐ Towels
☐ Dog spike
Precautions
☐ Medication
☐ Old sheet
☐ Fabric stain remover
☐ Brush
☐ Pet insurance
Out and about
Collar with name tag—If you lose your dog, it's essential people can return him or her to you. For this reason, put your current mobile number on the dog's tag and fasten it securely to the animal's collar. It may even be worth getting another tag marked with your holiday address as an additional precaution.
Long and short leads—While your pooch may enjoy walking on a long leash, in some areas (such as national parks) you might be asked to keep them on a short leash.
Water bottle and bowl—Carry a water bottle in your bag at all times to keep your pup hydrated. Collapsible bowls are great for feeding on the go.
Wipe-clean bootliner—Holidaying with your pooch provides plenty of opportunities for muddy hikes and long walks along sandy beaches. Unfortunately, sand and mud can make a real mess of your car boot, so investing in a wipe-clean bootliner lets you thoroughly enjoy messy day trips without worrying about soiling the car's interior. Bootliners will also protect the car from scuffs and scrapes if you transport your pet in a crate.
Poo bags—Just like at home, it's essential to clear up any dog mess when out and about.
Dog seatbelt or harness—Make sure your dog is suitably secured while in transit to prevent them suffering an injury if there's a motor accident. Not only will this keep your dog safe, it also means you're following car insurance guidelines.
Towels—Pack a few old towels to give your four-legged friend a good rub-down after they've been playing in the water or mud.
Dog spike—If you're planning on picnicking or pitching up on a beach, dog spikes are great for keeping your dog restrained on a long leash.
Precautions
Medication—Pack any regular medicine that your dog may need.
Large sheet—An old sheet will help stop dog hair getting on carpets or upholstery.
Fabric stain remover—Just in case of accidents.
Brush—A good brush after a wet walk is a useful way to stop fur becoming matted.
Pet hair roller or lint brush—Many holiday homes ask that you leave them in the condition in which you found them. A quick tidy round with a roller will remove all trace of pet hair.
Pet insurance—Arranging this is always a worthwhile precaution. Keep details of your policy on you in case your dog needs medical assistance while you're away from home.