As the costs of motoring increase, fewer people are now in a position to buy a new or nearly new car outright. Instead, many motorists choose to opt for the tempting Personal Contract Purchase (PCP) deals offered by car manufacturers.
Unlike a hire-purchase agreement — where the customer owns the car once payments are complete — PCP allows motorists to pay lower monthly instalments over a shorter period of time. Then, at the end of the contract, they can simply hand the car back to the dealer and swap the expired deal for a fresh one on another new car, or purchase the car at its agreed Guaranteed Minimum Future Value (GMFV), which is specified in the initial contract.
As with all seemingly 'win-win' situations, there is a catch. Namely, how guaranteed this future value price actually is. Because it has been known for motorists to be financially penalised if their lifestyle subjects the vehicle to more wear and tear than the T&Cs allow.
To find out more about what motorists assume will affect the GMFV price on their car, boot-liner manufacturer Hatchbag ran a survey asking the UK public "What parts of a car do you think are likely to cost you money at the end of a lease?"
Here's what the survey revealed: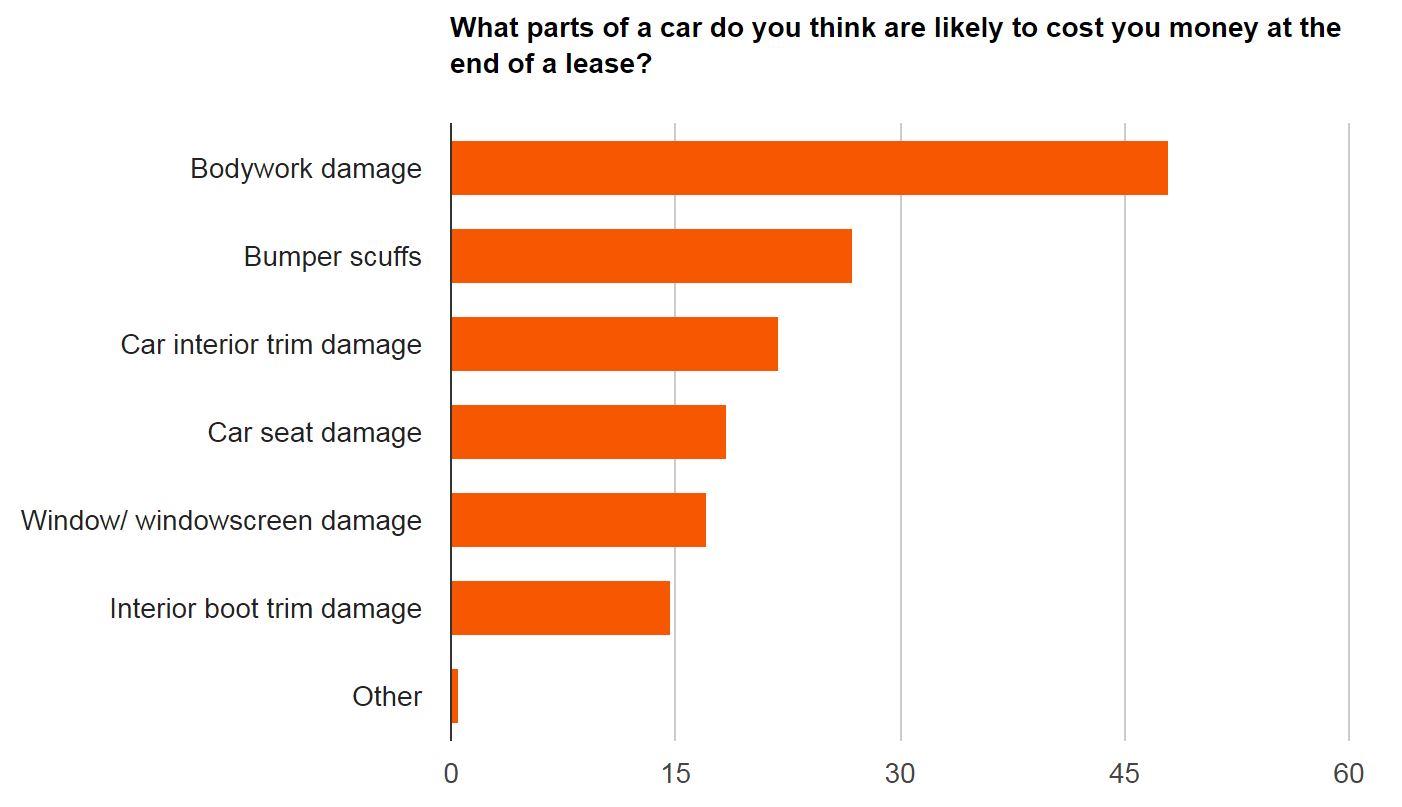 The results
As expected, motorists were most worried that damage to the bodywork would affect the GMFV when they returned the car to the dealer. Bumper scuffs, interior and window damage were also cited as being potential costs.
Surprisingly, the area that attracted the least amount of consideration was interior boot trim — the area of a vehicle that arguably receives the highest amount of daily wear and tear. With only 14.7% of respondents expressing concern, it highlights that the remaining 85.3% are at risk of facing financial penalties due to the state of their car boot.
Why is the boot such a key area for damage?
The primary purpose of the car boot is to transport larger bulky items, such as luggage, pushchairs or sports equipment. The very nature of these items means that they're likely to rattle around in transit, potentially knocking or scraping against the interior of the boot and tailgate, not to mention the potential damage to the bumper that could be caused getting them into the boot in the first place.
The boot is also used to store items that might otherwise permanently stain the upholstery in the main seating area of the vehicle — such as muddy boots, wet coats and bags of food shopping— despite the fact that these items are equally likely to soil the interior of the boot. This also presents the additional risk of mould spores that become ground in to the boot lining if wet items aren't removed immediately.
Boot damage can be a problem in any leased car; however, it is more of a risk in cars belonging to young families, pet owners and sport lovers. Here's why…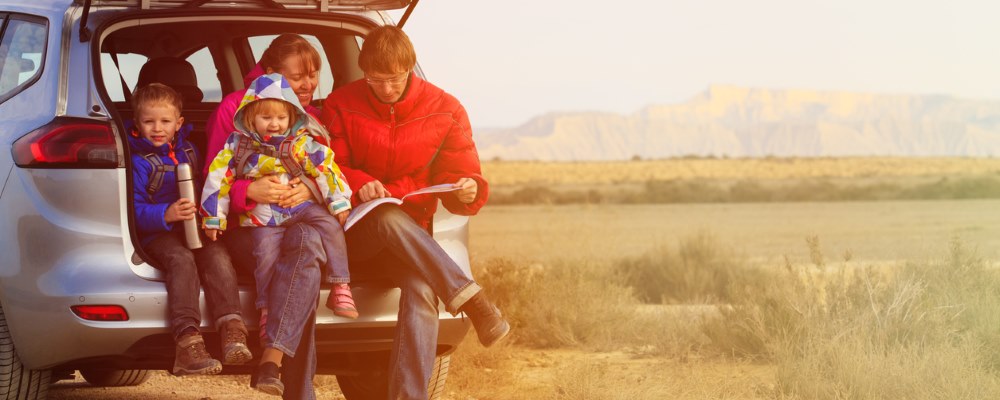 Families
More often than not, the primary requirement for a family car is size. It's not rocket science to discover that larger cars generally come with a larger price tag, making families the ideal candidates to opt for a budget friendly PCP option.
Unfortunately, young families are also the sector who are most likely to subject their car to an excessive amount of wear and tear — possibly jeopardising their chance of receiving the car's full 'future value'.
This is because the car is often used for the following purposes:
Family holidays – A time when the boot is invaluable for storing lots of luggage and possibly camping and outdoor equipment. Factor in sandy buckets and spades, deckchairs, wind breaks, muddy tents, dirty walking boots and the obligatory wet swimwear and towels, and you have a boot full of items that are likely to deposit dirt, sand and water. There is also the added risk that a boot packed with assorted holiday items could scrape the interior walls and tailgate.
Kiddy gear – Young children notoriously come with a lot of equipment, from every-day items such as prams and strollers to activity equipment like bikes, scooters, roller skates and football kits. All of this gear has one thing in common – dirt, be it mud, grease or oil.
Shopping - Although this isn't a problem exclusive to families, multiple shopping bags accelerate the risk of delicate items becoming damaged in transit and subsequently spilling out of their packaging. A leaked bottle of olive oil, juice, tomato sauce or red wine can wreak havoc on the boot interior, which no amount of scrubbing can completely remove.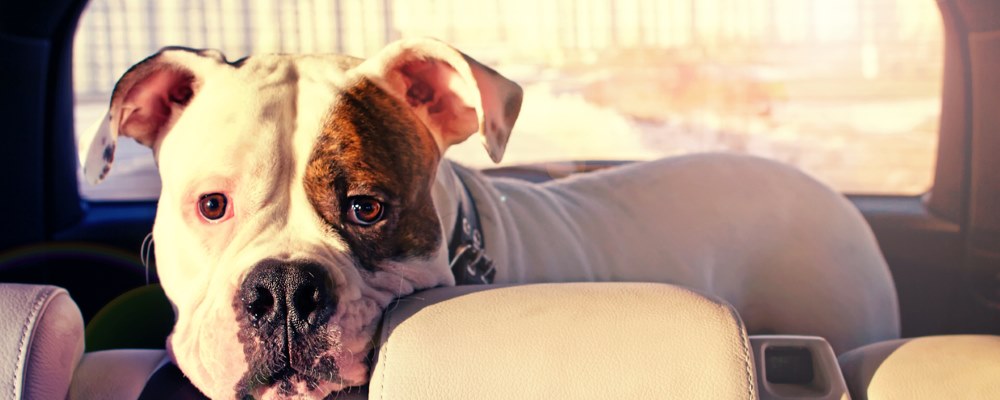 Dog owners
Cars with larger boot spaces are also popular with dog owners, and are often used to transport dogs to and from muddy countryside walks. Inevitably, pet hair and mud will quickly become ingrained in the fabric lining of the boot, something that is difficult to prevent even with the use of dog cushions and blankets.
There is also the consideration that pets may become travel sick or have an 'accident' in transit. These stains — and their subsequent odours — can be particularly difficult to completely remove from a fabric boot lining. Some dogs also like to chew or scratch at the boot interior, causing irreparable damage.
Sport lovers
Larger cars aren't exclusive to those who need to transport additional people or pets; sports lovers often opt for a car with lots of boot space to carry their equipment back and forth. It's not unusual for boots of the neatest looking cars to be filled with golf clubs, fishing equipment, mountain biking and climbing gear, alongside football and general gym wear. Again, many of these items can create muddy or oily stains, plus scratch and scrape against the boot interior and possibly even rip the fabric lining.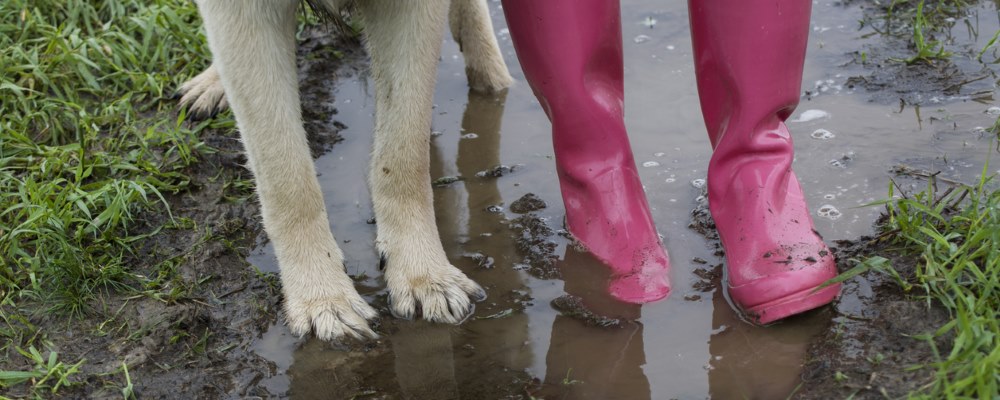 Damage limitation
As there is such a grey area around what counts as 'normal' wear and tear on a vehicle, it pays to take precaution and protect your car from any potential damage where possible. External scratches to bodywork are often unavoidable; thankfully it is much easier to prevent internal damage.
It is relatively easy to valet the front and back seats and footwells as you go to prevent stains appearing; with boot space it is generally better to take a 'prevention is better than cure' approach.
One great way of ensuring that your boot is not subjected to damage is to fit a boot liner. Rather than throwing down a protective sheet — which is likely to bunch up or slip around, leaving areas of the boot lining unprotected — it is possible to purchase a wipe clean, padded boot liner designed specifically to fit the exact measurements of the make and model of your car. This secure fit means that every inch of the boot lining is protected from any potential damage.
By protecting the boot lining — and inside tailgate if necessary — there is no need to worry about how your lifestyle may be affecting the future value of your car. Instead, you can maximise those family outings, muddy walks and outdoor activities — the very reasons why you may have chosen that particular car in the first place.