This year many families will be deciding whether to jet off in search of some summer sun or to opt for the ever increasingly popular UK staycation. Thus, Hatchbag asked 1000 people all about their summer plans for 2017.
Staycation vs Holiday Abroad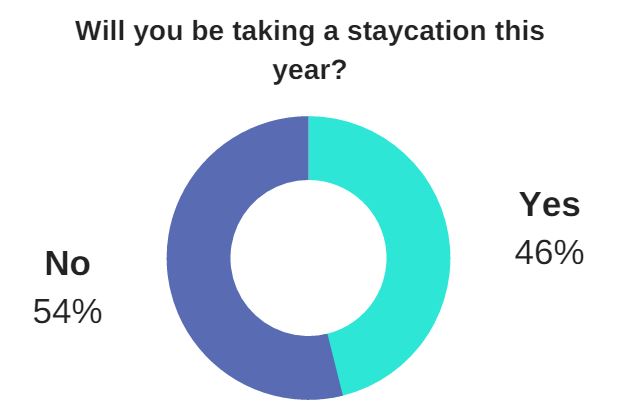 In total 46% of the respondents stated that they plan to stay in the UK this summer, opting to explore what Great Britain has to offer. In comparison, 54% revealed that they would still be seeking their dose of summer sun abroad this year.
Popular Destinations
So, with 46% of you choosing to stay in the UK this year, we wanted to know which areas of the UK are most likely to benefit from staycations.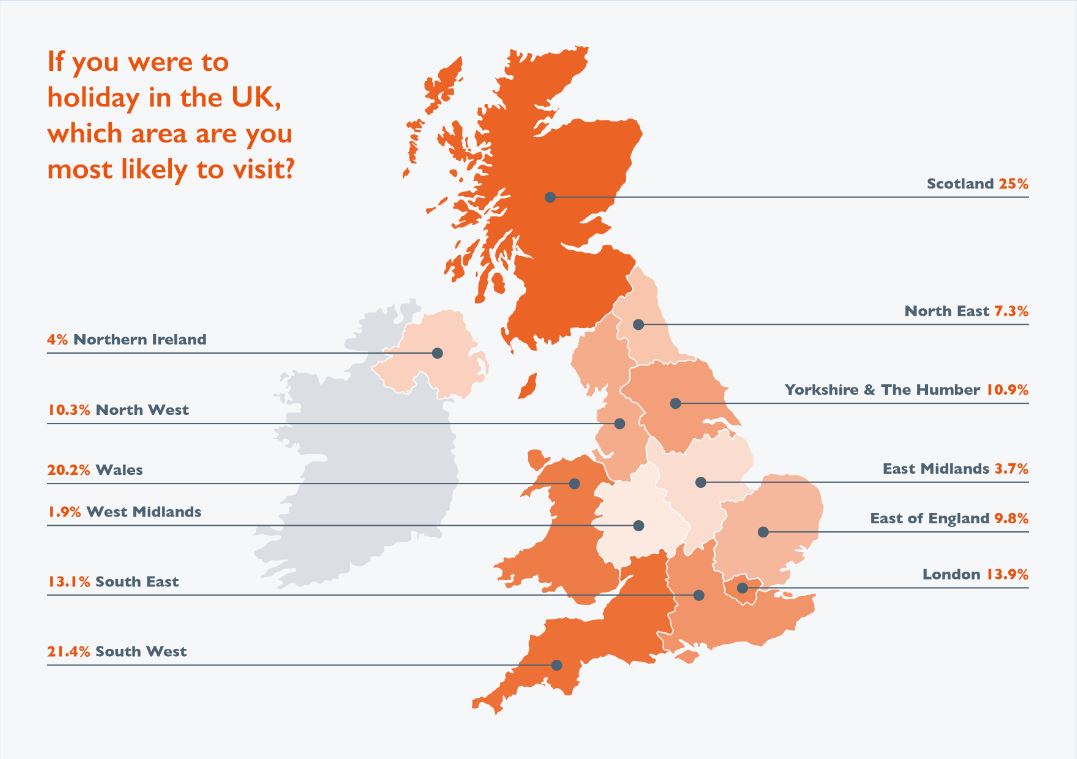 Interestingly, the most popular area is Scotland, which received 25% of the vote from the 1000 people we asked. Charmed by culturally steeped cities such as Edinburgh, stretches of stunning sands in The Outer Hebrides and the breath-taking beauty of the rugged Cairngorms, it is no great surprise that Scotland has come out on top.
But, Scotland is not the only one set to profit from domestic tourism with the South West of England and Wales closely following in second and third position.
With the South West of England playing host to popular coastal resorts such as Torquay and Cornwall, it's perhaps unsurprising that 21.4% chose it as a preferable location. After all, Cornwall experiences the highest temperatures in the UK over the summer months.
Wales offers an eclectic mix of places to visit. From the medieval city of Tenby to the striking scenery of Snowdonia National Park and picturesque towns and villages such as Hay-on-Wye, there's certainly plenty to explore. So it's no wonder 20.2% would want to have a staycation in Wales.
In comparison, the area least likely to profit from a rise in the number of staycations is the West Midlands. Only 1.9% claimed that they would be likely to visit this particular region. It seems that many of us are not drawn to the city sights of Birmingham or the rolling Shropshire countryside.
Similarly, the East Midlands and Northern Ireland aren't likely to benefit from people holidaying on home soil.
Staycations by Age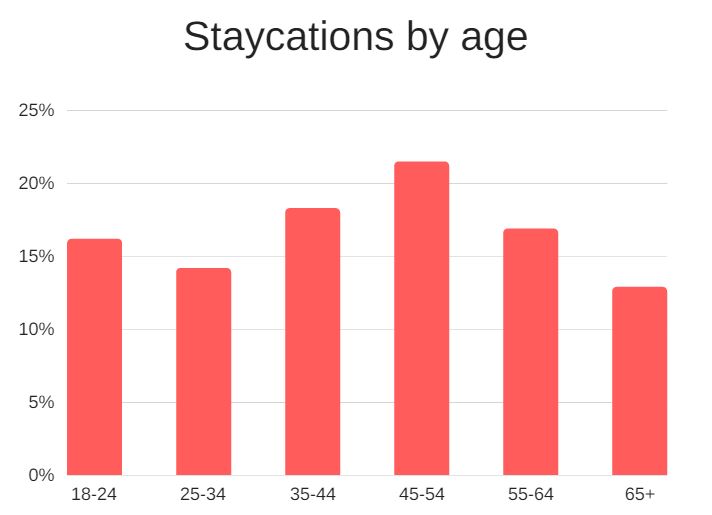 The age group most likely to opt for a Staycation in 2017 are 45-54, closely followed by 35-44-year-olds.
In contrast, those in the 25-34-year-old category and 65+ are more than likely to choose a holiday destination abroad over a staycation in the UK.
Why are more people choosing to holiday in the UK?
Expense
18% said that they would be opting for a summer holiday in the UK because they feel that foreign destinations are too expensive. This could be influenced by the falling value of the GBP.
Those aged 35-44 are the most likely to shun a holiday abroad due to expense, while 55-64-year-olds cited cost as being the least influential factor.
Preference
17% are choosing to stay in the UK simply because they prefer it. Males are the most likely to stay in the UK out of choice, with 57% claiming that the UK is their preferred holiday hotspot.
20.9% of those who stated that they prefer to holiday in the UK are aged 45-54.
Terrorism
The threat of terror attacks is also a factor that is having an impact on the number of people who are choosing a staycation over a foreign holiday. 8.2% of respondents claim that the threat of terrorism will stop them from travelling to their preferred destination this summer. And, it is actually males that are more than likely to be put off holidaying abroad by the threat of a terrorist attack compared to females.
If you're opting for a staycation this summer, be sure to take your Hatchbag boot-liner with you to protect your boot from any nasty spills or damage from suitcases and hair from your furry friends. Also, we'd love to see pictures of your favourite UK locations. Send us your snaps in on social to @HatchbagCompany for Twitter, @thehatchbagcompany on Instagram & The Hatchbag Company on Facebook.
Methodology
Hatchbag surveyed a sample of 1000 respondents who varied in age and gender from across the UK. The aim of the survey was to research attitudes towards staycations and to investigate which areas of the UK are most popular with domestic tourists.