As you may have all realised by now, we love our four-legged friends here at Hatchbag. Thus, we were interested to find out, which dog breed is the nation's favourite. So, in this blog, we have compiled the top 5 dog breeds, as well as some interesting facts about each breed: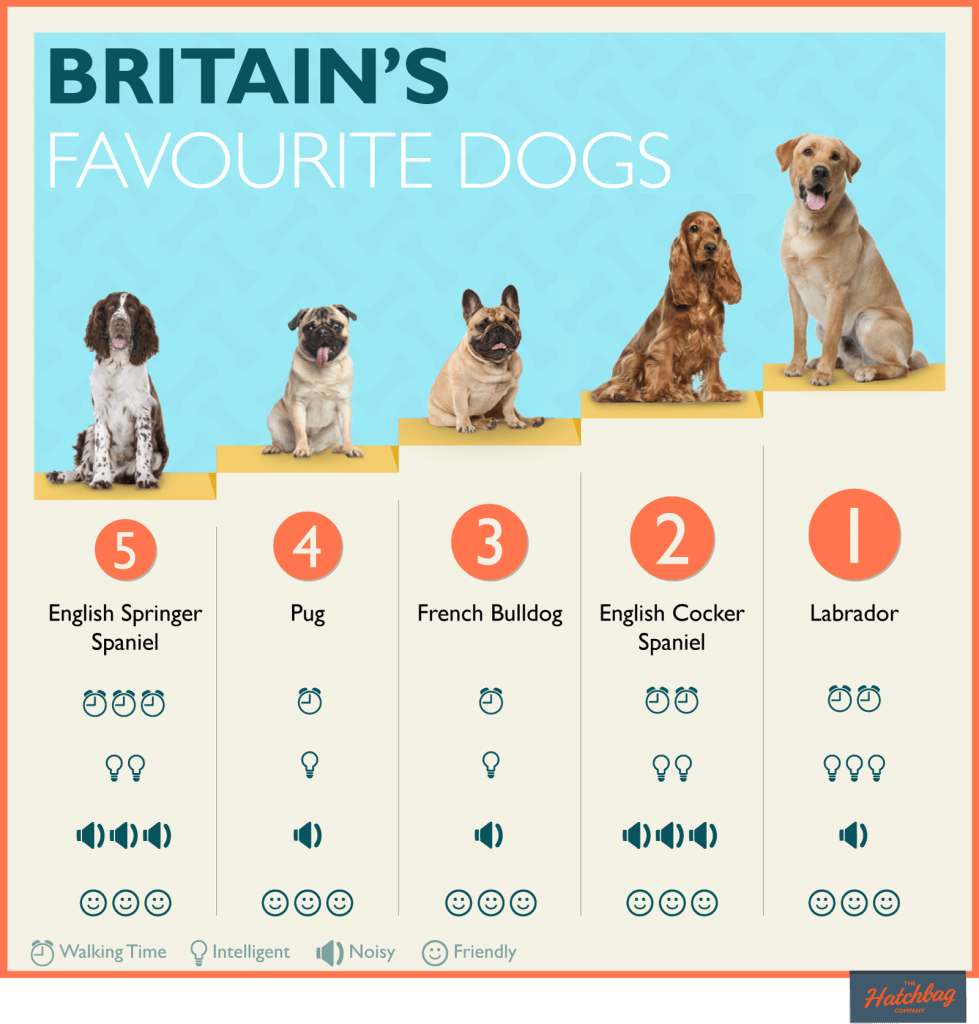 Number 5 – English Springer Spaniel
The English Springer Spaniel is friendly in character, as well as having the ability to learn quickly. With their happy-go-lucky nature, getting on with both children and other household animals, they make great family pets. Springers do tend to choose one person within the family to be 100% loyal to and they require a lot of exercise and activity to keep them entertained. If you are often away from home then springer spaniels are not the dog for you, as they cannot be on their own for too long.
Number 4 – Pug
Due to their small size, cute factor and squishable faces, the pug has become a firm favourite breed within the UK. They are charming in nature and are eager to please their owners, often following them about as they crave attention and affection. They make great family pets, as they are good with children. And depending on what you are looking for in a four-legged companion, pugs tend to be very lazy and like to sleep a lot.
Number 3 – French Bulldog
In recent years, the french bulldog has climbed the top dog breeds in England and is a strong contender for knocking the number 1 dog from its spot. But for now it sits at number 3. The french bulldog rarely barks and is good with children and other dogs, so, again making it a firm family favourite. They do not require too much activity and a few short walks a day will suffice. However, french bulldogs crave attention, so, they shouldn't be left on their own for more than a few hours. And, you will need to get your french bulldog friend a jacket for winter, as they get cold easily.
Number 2 – Cocker Spaniel
The cocker spaniel is kind, smart and an all-round happy dog. They get on great with children, dogs and other pets. So, another great pet for families. They do tend to bond to one particular person in the house and that person tends to be the one who gives them food. Plus, it is important to bear in mind that they don't like loud noises or being on their own. So, if you are a particularly loud person or are often not at home, then the cocker spaniel may not be for you.
Number 1 – Labrador
And the number one top breed in England is the kind and friendly labrador. Labradors have a strong sense of smell and are often used by the military, the police and as guide dogs. They are highly intelligent dogs and love company. They get along great with children and other dogs, so, make great family pets. They don't tend to bark a lot, so, are very quiet in nature. But, you do have to be careful when it comes to food with these pooches, as they love their food and don't have a switch-off button to stop eating.
It is fair to say that all us Brits love our four-legged friends and now we want to see your doggie photos. So share your snaps with us on Instagram @thehatchbagcompany, Facebook or Twitter @HatchbagCompany.
We wish you and your pet pooches a lot of fun together!