Top tips from the experts on what to pack, plan and expect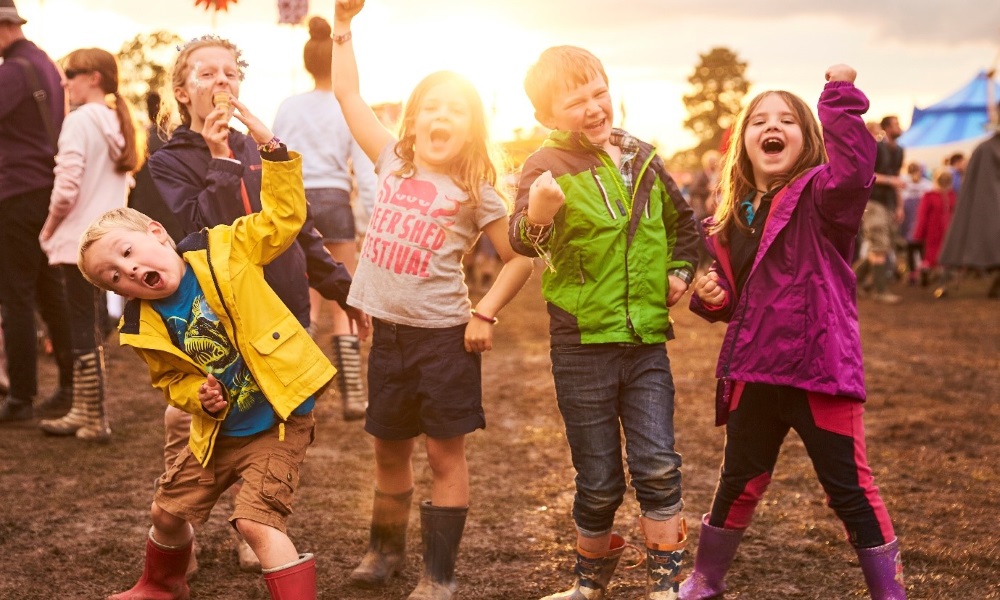 Image credit: Deer Shed
For many families, the festival season can be the highlight of the year, and for good reason! Fresh air, great music and the chance to chill out together can be a welcome escape from the restrictions and routine of 'real life'.
Revelling in the great outdoors, however, isn't everyone's cup of tea. One of the main reasons why people shy away from festivals is the thought of getting wet and muddy. This was confirmed in our survey of the British public, which revealed over 54% of people would be put off visiting a festival because of bad weather.
Although we've all heard 'horror stories' of other people's camping disasters and festival washouts, these are few and far between in comparison to the thousands of families who enjoy a wide range of festivals year after year.
It's all in the planning
As any veteran will tell you, the secret to a successful festival is in the planning. Arming yourself with the right equipment, knowing where (and how) to pitch up and having a good idea of the acts and events on offer will make a huge difference to your experience.
There are three golden rules to festival packing:
Don't take anything that you would care about losing/ruining.
Don't over-pack; you're unlikely to use it all and it can be a long walk from your car.
Take a tent at least 'one man' bigger than you need—two man literally means two people with no room for belongings—and practice pitching and packing it away before you go.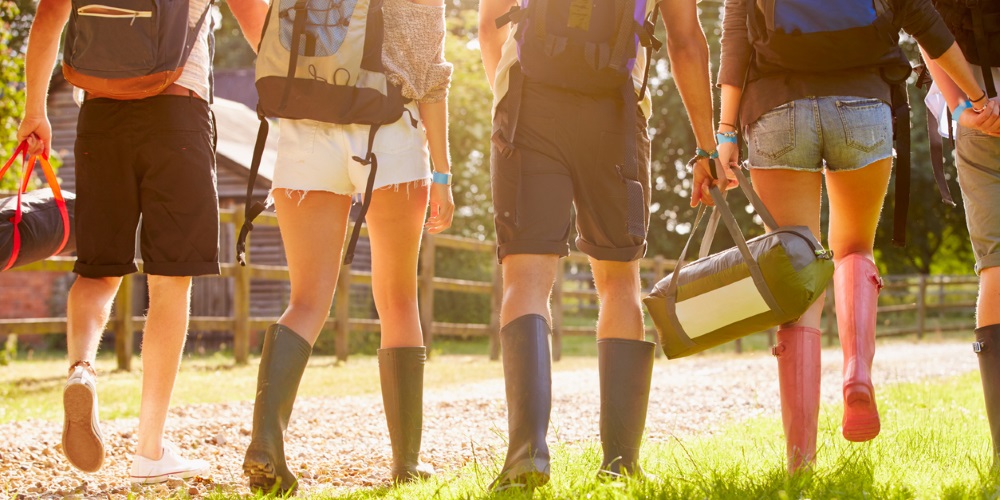 Advice from the experts
To find out more about what to pack, plan and expect from different types of festivals we decided to get some advice from the experts: Jack Keery from Deer Shed festival and Tommy Job, founder of the Tunes festivals.
Read on for their expert tips on ensuring that you have the best possible festival experience—come rain or shine:
What to pack for a field-based festival
People attending a field-based event need to come prepared for the possibility of mud.
Jack Keery from Deer Shed Festival shares his top ten packing essentials:
Reusable water bottle and reusable hot drinks cups. Check if the festival runs reusable cup schemes at the bars and hot drinks cups (at Deer Shed you pay £2 on top of your first drink but take home a branded cup as a festival memento) and top up at fresh water standpipes around the site.
Earplugs/ear defenders:Protect the kids' hearing! Quality music at festivals can really blow you away, but that doesn't mean it has to blow your eardrums.
Eye mask:People always pack warm layers in anticipation of chilly British summer nights, but often forget that the sun blazing through a thin tent wall can cause quite a rude awakening at daybreak. You need your beauty sleep, after all.
Torch:Vital for those midnight toilet visits.
Sunglasses and sunscreen:It's great to soak up the sun but make sure that you protect your skin and eyes - even at British festivals!
Wet wipes, hand sanitizer, anti-bite cream and insect repellent:People sometimes forget about the presence of pesky bugs at festivals so keep them at bay with a handy spray and treat any bites as soon as you can. Wet wipes and hand sanitizers can be a godsend, too.
Cooler box for food and drinks:Keep your snacks and drinks fresh and cool.
Gas stove:Providing it adheres to event restrictions (cylinders at the Deer Shed Festival, for example, must be less than 2.7kg in gas weight). There are lots of local and international food traders at most festivals, but it can be nice to have bangers on the campsite for a change.
Sling:For carrying the really little ones around, so you can remain hands-free.
Poncho/anorak and wellies:Just in case, obviously! Every year we pray for no rain. Sometimes our prayers are answered…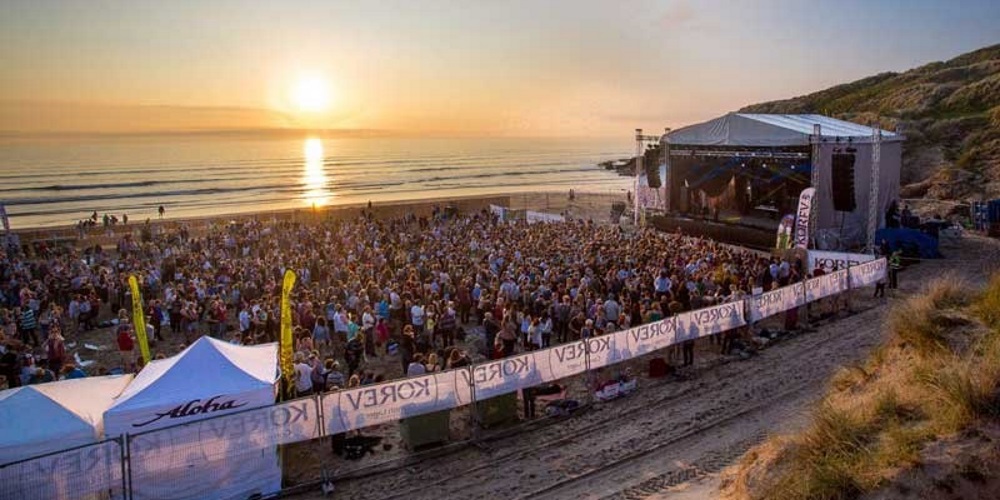 Image credit: 'Tunes'
Top packing tips for a beach festival
Tommy Job, founder of the Tunes festivals suggests packing for a beach-based festival in a similar way as you would for a general beach trip. Here are his top tips…
Swimwear is a must, along with sunscreen, sun hat, sunglasses and towels.
Reusable water bottles are great for keeping hydrated.
Don't forget a picnic blanket, plus buckets and spades for little ones.
Dress in brightly coloured clothes and wear eco-friendly glitter so you'll be sure to stand out from the crowd.
As British weather can be unpredictable, bring waterproof ponchos in case of summer showers.
Although most festivals have card machines available to make purchases, it's always handy to have change, especially when there are so many amazing food traders serving a variety of tasty treats.
Last but not least, lots and lots of (biodegradable) baby-wipes to help keep little sticky fingers clean!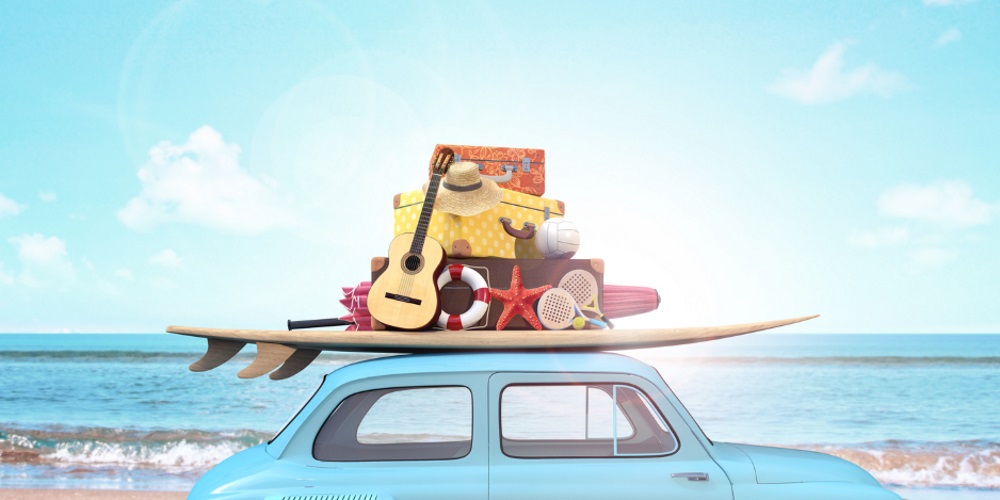 Everything but the kitchen sink
Once you've got your tent and have stocked up on camping essentials, there is the small matter of deciding what clothes to pack. The unpredictable British weather can make packing for a festival a bit of a dilemma—especially when trying to pack light—and as our survey suggests, the idea of spending a weekend feeling cold and wet is less than appealing.
Layers are key for the UK weather, with decent footwear and a good waterproof coat in case of a downpour. Try to resist the temptation to pack for a month and leave anything you don't want to get ruined or that is tricky to get in and out of—such as playsuits and dungarees—at home. Biodegradable glitter and bright coloured accessories will help embrace the festival vibe—not to mention make it easier to spot other members of your party in the crowds.
To make things easier, our comprehensive packing list covers everything that you could need for your festival trip: [download here]
Festival Essentials – Downloadable Packing list
Essentials
☐ Festival tickets! Print them out in case your phone dies.

☐ ID

☐ Phone and charger/battery pack

☐ Enough cash to stash around your person (plus a money belt or bum bag)

☐ Credit/debit card
Camping
☐ Tent

☐ Folding chair

☐ Sleeping bag, roll mat and an empty pillowcase (pad it out with a hoodie)

☐ Blanket for wrapping up in when sitting out at night

☐ Earplugs— the only way to guarantee some sleep

☐ Sleep mask—essential if you don't want to wake up with the sun
Toiletries
☐ Wet wipes and antiseptic wipes

☐ Toilet roll and hand sanitiser

☐ Paracetamol, hayfever tablets, any personal meds, bug spray and a small first aid kit

☐ Toothbrush, toothpaste and chewing gum

☐ Towel (microfiber towels dry quickly and don't take up much space).

☐ Dry shampoo, towel off body wash (no water required)

☐ Tampons and deodorant

☐ Sun cream, glasses and hat
Eating and drinking
☐ Refillable water bottle

☐ Non-perishable food—e.g. dried fruit, bread, pot noodles, nuts and biscuits

☐ Small cooking stove and pan
Clothes
☐ Light, waterproof rain coat or poncho

☐ Jumper or hoodie for the evening

☐ Quick-drying legwear – avoid jeans

☐ Wellies, comfortable shoes/boots

☐ Spare socks and underwear

☐ Completely dry set of clothes in a watertight bag

☐ Decent rucksack (don't bring a suitcase, they are heavy to carry and won't wheel through mud)
Extras
☐ Flash light, preferably a head torch

☐ Bin bags for wet/dry clothes, sitting on, rain protection and for under sleeping bags

☐ Duct tape for tent mishaps

☐ Noise reducing earphones for kids

☐ Disposable cameras (don't waste your phone battery)

☐ Picnic blanket and toys for a beach festival

☐ A sledge, trolley or wheelbarrow to help transport your gear to your pitch
And what NOT to pack
Glass—if your festival permits you to bring your own refreshments, choose cans or plastic.
Gazebos won't make you very popular with other campers and are heavy to transport.
Candles, Chinese lanterns or fireworks can be incredibly dangerous in a festival environment.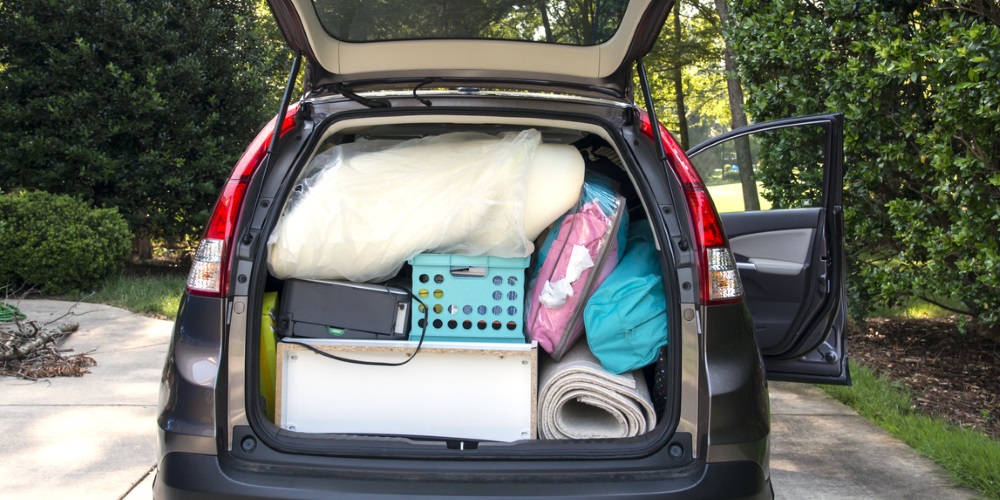 Travelling to and from the festival
For many families, it is easier to travel to a festival by car, not least because of the amount of luggage you will need. If you have access to your vehicle during the festival, your car can provide a useful space for keeping belongings dry—just make sure anything of value is kept out of sight.
Our top tips for taking your car to a festival:
Make sure you have enough fuel for the journey there and back. You may find yourself stuck in heavy traffic when leaving the festival, so don't rely on being able to fill your tank as soon as you leave the site.
Keep bin bags ready and waiting to fill with muddy clothes and camping gear.
Invest in a wipe clean, padded boot liner to protect the car's interior from mud, water and scratches from lugging bulky camping gear in and out.
Have a set of clean, dry clothes and shoes in the car so you are comfortable on the journey home.
Leave extra snacks and water for welcome refreshments.
Keep a phone charging lead in the car -- your battery will almost certainly need a boost.
Entertainment for tired children will help while the journey away.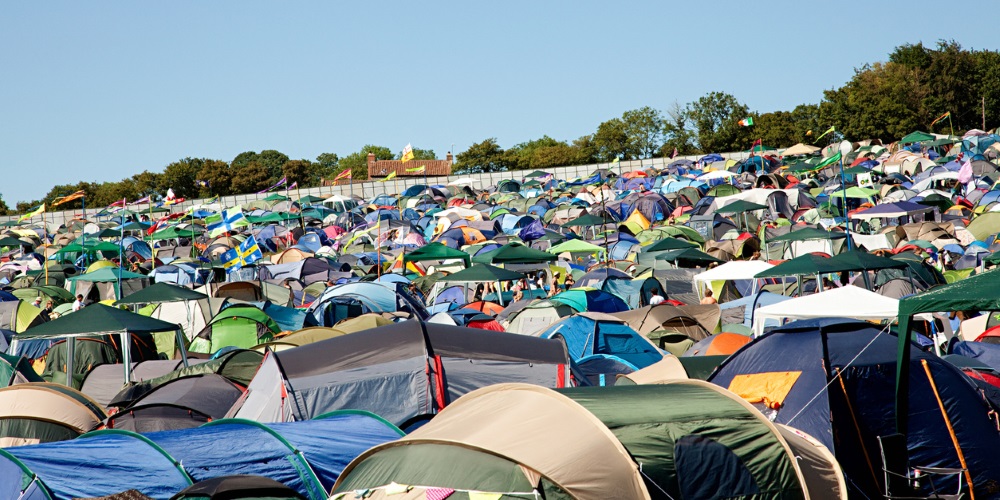 And finally, what to expect when you get there
Many festivals—especially family-focussed ones—are jam-packed with activities alongside the performances. Before you go it is a good idea to familiarise yourself with the itinerary and work out what is on offer and when. Don't forget to factor in travelling time between stages and attractions as some festivals can sprawl over a vast area. Often festivals have an app that allows you to check the acts to want to see and avoid any clashes. Some die-hard festival-goers have even been known to devise a spreadsheet to ensure they make the most of every minute!
Tommy Job, advises festival-goers to take a much calmer approach:
"Make sure to leave plenty of time beforehand so you don't feel stressed upon arrival. It can be overwhelming karting many bags and camping gear along, especially with little ones tow, so the more you can prepare at home the better. Pack something small that will keep them entertained if you do have to queue at the box office. If you're camping, pitching a good distance between the bathrooms and main entrance is beneficial. The Tunes camping grounds are relatively small, so it's easy enough to navigate your way around. Check on the performance times before you get there so you don't miss your favourite acts."
Something for everyone
Aside from the headlining acts festivals often have areas designed purely for children, as Jack Keery explains:
"It's hard not to give information overload when you're talking about what's on offer at Deer Shed because there is so much to do for every member of the family! The festival site is a plethora of performances, activities, spectacles and good vibes. Visitors can experience magical and immersive theatre, walkabout performances and art installations or even attend a baby bubble rave before taking your tot to our group bath time."
For more top tips about making the most out of your festival experience, read Part 2 of our festival guide here…