Everything you need to know about different types of car boot liners
There are many different types of boot liner available, each offering their own benefits. Below we look at some of the boot liner styles on offer to help you choose a product for your needs:
Also in this guide:
Custom boot liners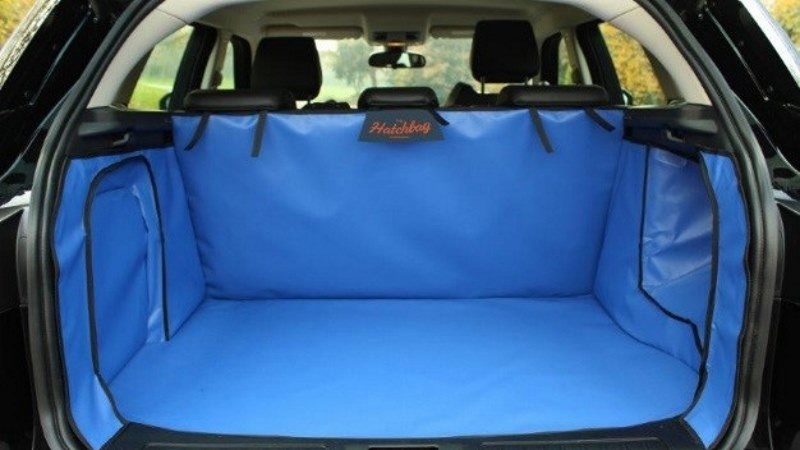 Custom boot liners are made to fit a specific model of car. All Hatchbag boot liners are custom boot liners.
Each liner we create is crafted to perfectly fit the specific make, model and year of your car so it will protect every part of the boot. We also supply liners that can protect the back of your seats when they are folded down to create more space in your car, known as the 'rear plus' option. If you only need to fold one seat down we also have a 'rear split' option available. If you have three seats that can fold down our 'seat split' option can be configured to accommodate this, allowing you to fold down the middle seat, the left or the right seat in any combination offering full protection.
Rubber boot liners or rubber car mats
Some people call them rubber boot liners some people call them rubber mats. A rubber mat is probably the most suitable name because this kind of liner only sits on the floor of your boot and does not protect the sides or "line" the boot in the same way as most boot liners do. That means there are some major disadvantages to selecting a rubber mat over a full boot liner. We always recommend you use a rubber mat in conjunction with a custom made boot liner – that's why we offer our rubber mat.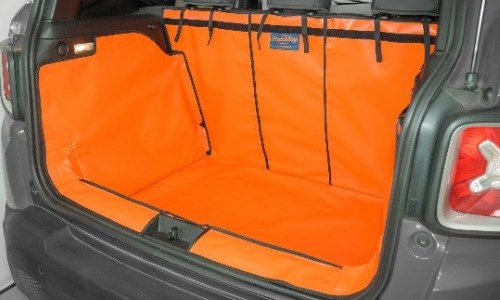 A standard boot liner that covers whole boot (not normally made of rubber)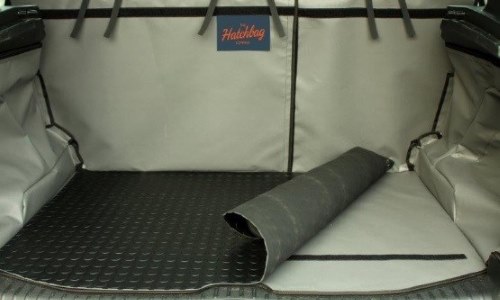 Picture of rubber mat sometimes called rubber boot liner
Below we:
run through the basic options for rubber car mats
explain some of the pros of these kinds of mats
explain why boot liners tend to be a better option over a basic mat
A note on terminology – for the sake of simplicity we'll call rubber boot liners the correct term 'rubber mat' or 'rubber car mat'.
Rubber car mats – what protection do they offer and is rubber a good material?
Rubber car mats (also known as rubber boot mats) are designed to protect the floor of your boot. Unlike other boot liner designs, rubber car mats only protect the floor and not the sides of your car.
Rubber is a hardwearing material that protects against acid, oil and other chemicals. It's also waterproof and UV-resistant.
Most rubber car mats come with a repeated upper design and raised for anti-slip purposes. This helps prevent items for slipping around in the boot and causing damage.
The main benefits:
Waterproof
Provide protection against oil, dirt and UV sunlight
Easy to fit and remove
Easy to clean
Cheaper
Four different types of rubber mats: universal vs custom-made; flat or raised edge?
Universal vs custom-made
Universal
Universal rubber mats are designed to fit as many cars as possible. They often come in basic sizes like small, medium and large. This simple range of sizes means universal rubber boot mats are cheaper than the custom-made variety.
However, they will not fit your boot perfectly because they have been designed to cover as much space for as many cars as possible. Some universal boot mats come with optional size-lines so you can cut them to the size you need. However, this is still unlikely to fit as well as a custom boot mat.
Universal mats are often made cheaper with lower-quality materials and will not last as long.
Custom-made
Custom-made rubber boot mats are designed to fit your car boot perfectly. There is no need for DIY trimming as the manufacturers make the rubber boot mats to each vehicle's specification. You simply need to choose the mat for your particular vehicle and it will fit comfortably.
Custom boot mats are often made from higher-quality materials and usually last much longer as a result. This makes them more expensive than universal mats.
Flat or raised-edge boot mats?
Flat boot mats are designed to lay flat in your vehicle's boot to provide an added layer of protection.
The mat has anti-slip attributes to help keep items secured, and offers a quicker way to clean small spillages from the boot.
Benefits:
Quick to clean
Anti-slip
Designed as an accessory
Raised-edge rubber boot mats (also called rubber boot liners or trays) are designed to be your car's sole boot liner/mat. Their edges are often curved upwards to create a tray shape which keeps any liquids and debris inside the mat.
Raised-edge rubber boot mats still only cover the bottom of your boot, so the walls and backs of the rear seats will still be exposed to any spillages or stains.
Benefits:
Cheap alternative to other boot mats
Quick to clean
Tray shape stops liquid spillages from leaking
How does rubber compare to other kinds of boot liners?
No side protection
Rubber boot mats often don't protect the walls of the boot, just the floor. If you have prams with muddy wheels or messy fishing rods, they will end up touching the sides. With a rubber boot mat you may find stains on the walls of your boot.
More likely to find debris underneath
Because rubber boot mats don't have side protection, mud, debris and spillages can find their way underneath the mat and get trapped. This can cause issues like damp, bad smells, staining and even mould.
Cheaper
The low price of rubber boot mats and liners is the main reason people buy them. However, this doesn't mean they provide better value.
As previously mentioned, rubber boot mats can be made of lower-quality materials which will wear down quickly. It's worth considering how long/much you will be using your boot mat. If it's infrequently, consider a cheaper option. If you are looking to use a boot mat long term, it's worth paying that bit more for a higher-quality mat.
Unsuitable for pets
Rubber boot mats are very uncomfortable for pets. The rigid rubber of the liner can be painful to lie across and their fur can snag with each turn of the car, which will not be comfortable!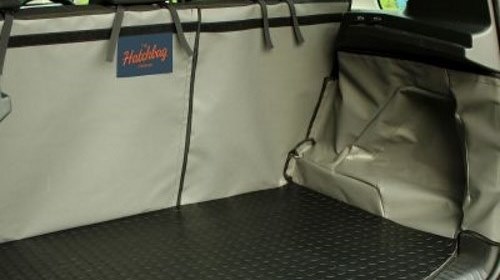 Hatchbag rubber mat
The Hatchbag rubber mat is designed to be used on top of the Hatchbag boot mat. It can sit over the base of the boot mat as an added layer of protection or be used on its own. It is designed to fit the boot floor based on exact car make/model and year.
The top surface is a penny/stud design that stops objects slipping but allows them to move across the surface without "snagging". The underside is textured to prevent any slipping between the boot mat and mat.
Padded boot liners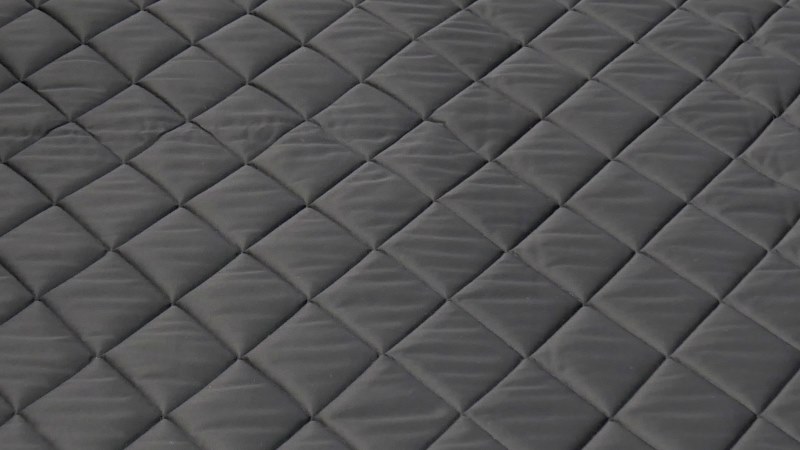 Padded boot liners offer extra protection for your boot ensuring it doesn't get scuffed or marked by cumbersome objects such as outdoor sports gear used for fishing or climbing. Padded covers are also preferable for dog owners, adding a level of comfort for your dog that is not available from other types of liner.
The Hatchbag Company offers a range of mats to add to the liner to make the journey more comfortable for pets or add protection when carrying heavy loads.
High-sided boot liners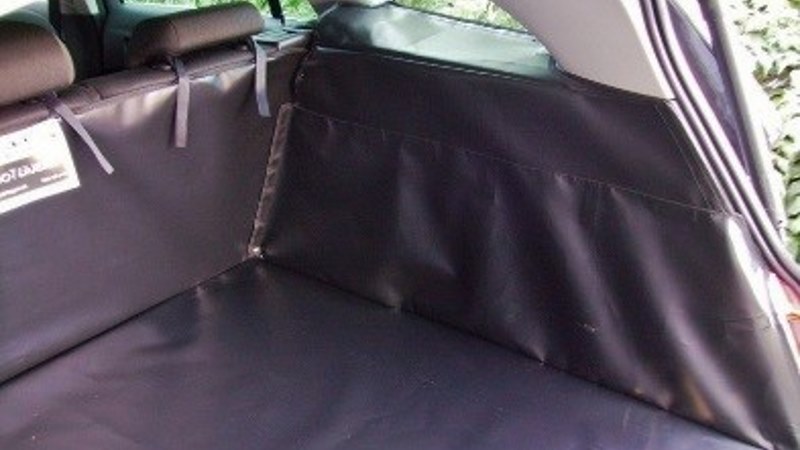 Some companies use 'high-sided' to describe a distinct type of boot liner. This description simply refers to a boot liner that protects the side of your boot, as opposed to only protecting the boot's floor. All of Hatchbag's boot liners are high-sided.
Most high-sided boot liners are not custom-made for particular vehicle types and so will not fit as well into the boot as a custom-built option. This means the entire cover is more susceptible to coming loose.
It is always recommended to select a custom-fit high-sided boot liner to ensure proper protection for your vehicle boot.
Custom boot liner vs generic boot liner
| Custom boot liner | Generic boot liner |
| --- | --- |
| Won't move around or slip during journeys. | Prone to slippage due to poor fit. |
| The boot is less susceptible to damage as the liner is fastened securely. | Corners and edges more prone to damage as poor fit may leave them exposed. |
| Ready-made to fit your car. Very quick to install in the boot. | Needs trimming for it to fit in the boot. |
| Easier to fit in the first place. | Could be harder to fit into place since the shape won't match up exactly to the boot. |
| Better protection for every part of your boot. | Some parts of the boot are likely to be exposed to dirt and debris. |
| More variety of configurations (for example, our 'rear plus' and 'rear plus with seat split' options). | Less flexibility. Seats may not be folded down when the liner is in place. |
Materials
Boot liners are made of either plastic, rubber or fabric. Generic boot liners that you have to cut to size are normally made of standard PVC. Liners manufactured with patterns on the top to make them non-slip are often made of rubber. Both of these materials are reasonably waterproof, hard-wearing and easy to clean, but they aren't well suited to dogs as they do not offer much comfort.
The Hatchbag boot liner is made of reinforced soft PVC. This means it is waterproof and easy to clean but much more comfortable for a pet. The material itself also generally offers better protection of the stuff you are putting in your boot compared with flat rubber or standard PVC liners.
Features to look for in a quality boot liner:
Waterproof
If you have a dog or partake in any outdoor activities that involve carrying wet or muddy equipment in your boot then you definitely want to choose a waterproof boot liner. Water resistant materials prevent liquids from seeping into the fabric of your boot, avoiding stains and smells. Once these stains have soaked in, it's very hard to get them out.
Most boot liners are made of materials that are at least water resistant, but the difference really comes from the shape of the liner. If the product only covers the bottom of your boot then water can easily travel to the edges and damage the sides of your boot.
Anti-slip
Anti-slip mats mean loads won't move around during transportation and also provide something for dogs to grip onto.
The vast majority of liners described as anti-slip are low liners or tray liners and don't offer the full protection that a high-sided or custom boot liner does. So, though your dog may be able to grip on to the boot comfortably, the sides of your boot are vulnerable to stains and dirt.
Your best option is to select a full, custom liner and purchase an extra anti-slip mat to combine the best of both worlds.
At Hatchbag, we provide rubber mats that fit perfectly on to our boot liners to prevent slippage. These are also well-suited to customers who regularly transport heavy loads.
The top surface of the rubber mat is a stud design that reduces slip but allows objects to move across the surface without snagging. The underside is textured to eliminate any slip between the boot liner and the mat.
Heavy-duty
A heavy-duty, strong boot liner will protect both the load you put into your boot and the boot itself. If you regularly pack cumbersome or heavy loads into your boot then you need a liner that can offer sufficient protection – rather than one that will wear, rip or leave certain parts of your boot exposed.
At Hatchbag, we offer a rubber mat to supplement our boot liners that add even better protection if you regularly transport heavy loads. The underside is textured so that it doesn't slip on the boot liner itself.
Easy to clean
If your boot gets a lot of use or you have dogs, you will need a cover that is easy to clean. Most rubber trays are not particularly easy to clean. You can wipe them down, but debris get lodged in the pattern or ridges. For a proper clean you may have to remove them entirely.
The Hatchbag boot liner is made of a non-absorbent, wipe-clean material, making it incredibly easy to clean up after use. All you need is a damp cloth and you're ready to go. Dirt comes off easily and liquid will not be absorbed. Since the liners fit so snugly there's very low risk of dirt or water getting under the liner.
Pet-friendly
If you want to take your pet along with you on a journey, you will need to ensure they are comfy and well protected.
Things like: odour protection and added comfort are incredibly important for your pet, especially if you're going for wet walks or long journeys.
You will also want to make sure your boot liner is durable and of a high standard. Cheaper boot liners tend to break a lot easier if under any sort of stress, therefore, make sure you invest properly early on – it will save you money in the long run!
Easy to fit
A lot of boot liners have to be cut-to-size upon delivery. If you make a mistake or don't cut the liner correctly it won't fit properly in your boot or won't offer proper protection.
Non-custom liners that don't have to be cut to size often arrive rolled up and must be flattened for a considerable amount of time before they can be put in place. Even then they can still curl up in some cases.
Custom-boot liners are designed not only to perfectly fit your boot, but also to make fitting the liner in the first place nice and easy.
For more information on how to fit your Hatchbag boot liner, click here
Car manufacturers that we cover:
Find your car boot liner here
Related content
A guide to the Hatchbag boot liner
Comparing the Hatchbag boot liner to the alternatives