There's no doubt about it, having children makes you do things differently – holidays being a prime example. Unless you have unlimited funds, foreign jaunts invariably go on hold when there's a young brood to cater for, presenting the question of how to find a cost-effective yet fun holiday to suit all members of the family.
One great family holiday option that ticks all of these boxes is camping. Not only is a brilliant way to escape from reality, it's the perfect way for kids to connect with nature, develop some valuable life skills and ultimately let loose and simply be kids.
The benefits of camping with kids
Far from being Enid Blyton idealism, camping really does put a different spin on spending time together as a family. We are all guilty of wasting too much time on our electrical devices – children included – so getting away from our screens and back to nature is a welcome change for many families, as numerous studies carried out by The Camping and Caravanning Club highlight:
98% of parents said camping makes their kids appreciate and connect with nature.
95% said their kids were happier when camping.
93% felt that it provided useful skills for later life.
4 out of 5 parents believe that camping had a positive effect on their children's school education.
Almost three quarters of parents think social media is affecting children's ability to interact and engage with others.
64% of campers believe that taking their children camping improves social skills and mental health.
Over 50% of campers felt cooking when camping had a positive effect on their children's learning.
Despite these facts, camping does not appeal to everyone, not least parents of small children. This is no surprise because for first-time campers the idea of sleeping under nylon and cooking over coals can sound pretty daunting. With this in mind, we have compiled a 'camping must-have' guide, complete with 33 useful tips to help camping newbies work out what to buy, pack and prepare for a stress-free family camping trip.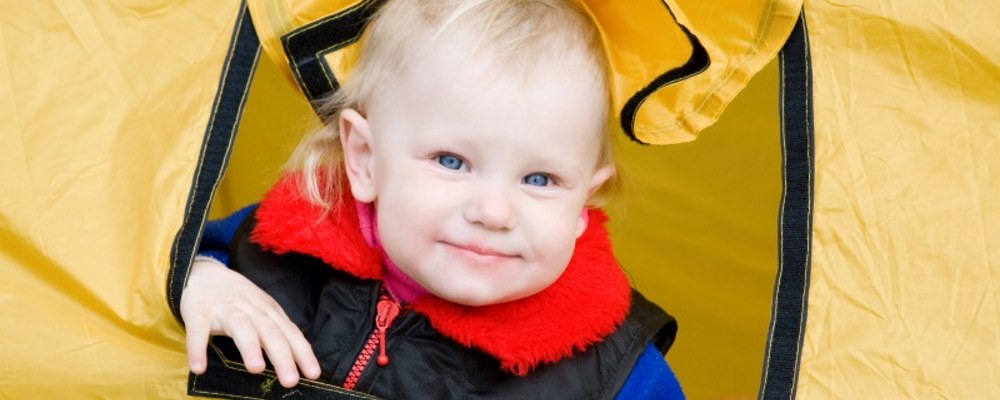 33 top tips for stress-free family camping
Where to start?
One of the best ways to venture into the camping world is to talk to – or even tag along with – friends with children who have camped before. Learning from other families' camping successes – and failures – is a great way to get a realistic view of what to expect.
Before investing in all of the camping gear it is worth trying to beg, steal and borrow as much equipment as you can to see if you actually like camping. More often than not, seasoned campers will have refined their 'must-haves' and worked out what gear is necessary, which will give you a good idea of what to buy if you decide to commit to tent life. It is also worth asking yourself how you will store your camping gear.
There are a wide range of campsites available, all offering different amenities and attractions, so think about what you want out of your holiday. Very basic sites are great for 'wild' camping but they may be a little ambitious for first-time family camping. In most family-friendly sites you can expect to find showers, toilets and pot-washing facilities; many also have a small shop in case you have forgotten any essentials. Some sites have playgrounds and arranged activities, while farm sites often allow children to interact with the animals.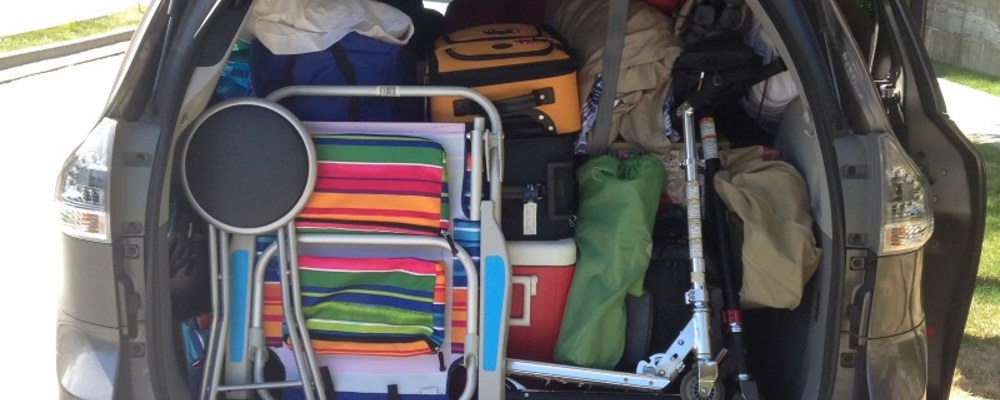 Another benefit of choosing a family-friendly site is that other campers will be sympathetic if your little darling decides to throw a midnight wobble. The camping community is generally a friendly bunch, who will have most likely experienced exactly the same with their own children at some point or another.
Choosing the right equipment
Before going wild in your local outdoor store, consider the size of your car. Although most camping equipment is designed to fold down flat – even a large tent can pack away into a pretty compact holdall – it will still fill a car boot pretty quickly. Investing in a roof box for stowing lighter belongings may free up valuable space inside your car.
When selecting your tent think about how you will use it in regards to your children's ages, sizes and needs. Tents with individual sleeping pods positioned around a living area are especially helpful in bad weather when the whole family has to be inside the tent in the evening, or if toddlers have daytime naps. Families with older kids are also likely to benefit from the additional privacy these extra compartments offer.
Everything is better after a good night's sleep – not least dealing with small children – which is why it is worth investing in good-quality air mattresses and sleeping bags. Unless you are hiking to your campsite, roll mats aren't really advisable and they may take the concept of 'connecting with nature' a step too far for family camping!
Plastic storage boxes are a lifesaver when camping for keeping belongings dry, clean and insect-free. Use separate boxes for food, cooking equipment, toiletries etc. so that everything can be easily accessed then stacked neatly away to maximise space in the tent.
Camping with little ones will undoubtedly be easier if you have an electric hook-up. Not only will it make heating up bottles – or making a well-needed brew – much easier, it is also much less stressful than constantly monitoring boiling pans of water on the stove.
An electric cool box is another reason why you may want to invest in an electric hook-up. It's a great way to ensure that food stays fresh throughout your whole trip, not to mention keeping drinks ice-cold for essential BBQ refreshment. If you prefer a traditional cool box, double up on freezer blocks as many campsites have facilities for refreezing.
Boot liners are invaluable for protecting the interior of your boot from mud, water and damage from lugging bulky equipment in and out. They also transform your car boot into a storage area for muddy boots, wet-weather gear and play equipment – basically everything that you don't want cluttering up your tent.
Tent carpets may sound like a gimmick but they really add to the cosiness and comfort of the tent, especially if children want to play on the floor. Alternatively, as a cheaper option you could use a few plastic-backed picnic blankets to cover the tent floor.
Even in the nicest weather the grass is likely to be wet with dew in the morning so don't rely on picnic blankets as your only seating method. Telescopic canvas chairs and camping tables will certainly make meal times and child entertainment easier.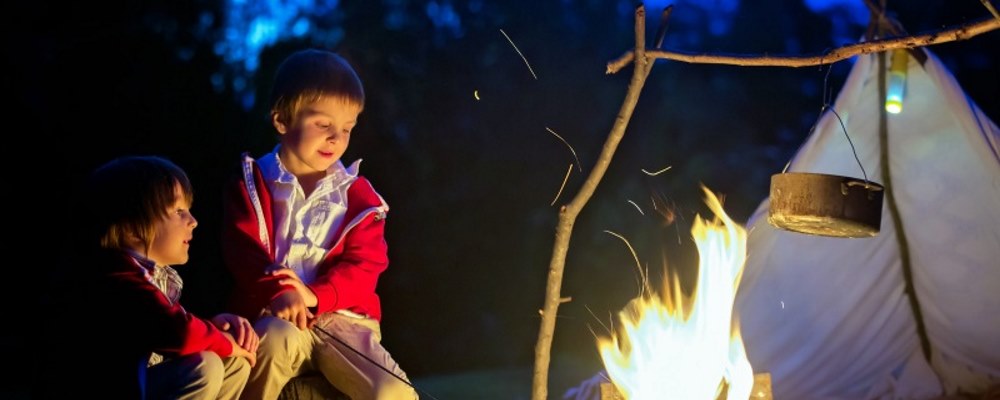 Cooking and eating
Preparing food whilst camping doesn't have to be daunting – realistically it is just a simplified version of how you would cook at home. You will only need basic cooking equipment such as a stove, BBQ, kettle, frying pan, saucepan, plastic or tin crockery, cutlery, utensils and a chopping board.
The key to eating well on a camping trip is to keep it simple. Think picnics, BBQs and easy-cook staples like baked beans or pasta. Cooking outdoors on the BBQ or gas stove is one of the best parts of camping, but it is certainly not the speediest way of putting food on the table. With this in mind, make sure you bring plenty of snacks and nibbles to keep everyone going between meals.
Don't forget a washing-up bowl, cloths, tea towels and washing-up liquid. Get the kids involved in outdoor pot-washing, making the most of the fact that camping crockery is practically indestructible! The washing-up bowl can also double up as a splash bowl for toddlers.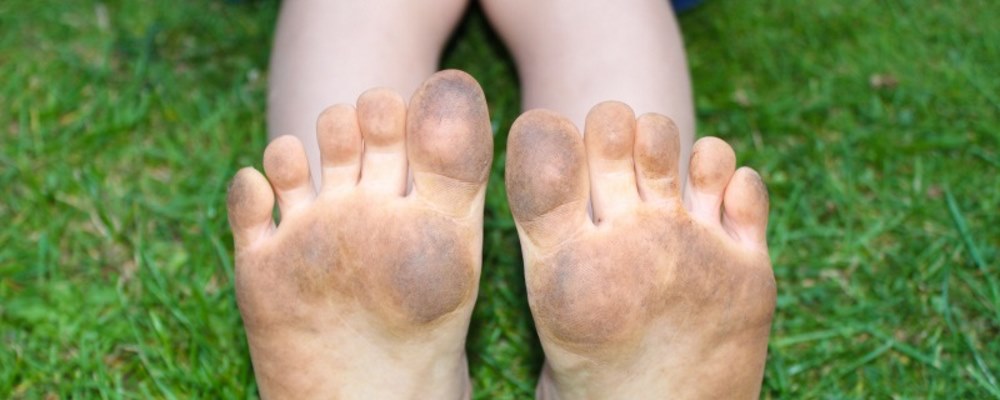 Practicalities
An absolute must-have for any camping trip is a first-aid kit. Stock up on plasters, bite and burn cream and antiseptic wipes, as well as kiddy-strength paracetamol and ibuprofen.
Trekking across a field in the middle of the night to take a small child to the loo isn't ideal so don't forget a potty – or a lid with a bucket – plus lots of loo roll to facilitate night-time toilet trips.
Although most campsites have shower facilities, wet wipes are a godsend for keeping little ones – and big ones – clean and fresh.
Insect bites can sometimes be a nuisance when camping so it is well worth stocking up on insect repellent spray and lighting a few citronella candles to keep bugs at bay. Seasoned campers swear by putting a bunch of sage on the campfire as an additional deterrent.
Torches and lanterns are also essential, both for lighting the tent at night and finding your way to the amenities after dark. Low-light night lights or battery-operated fairy lights can be helpful for comforting young children at bedtime as there will invariably be unfamiliar noises during the night.
If you are able to park your car close to your tent it is a good idea to leave the bags containing clothing inside the car and take items out as and when you need them. This will prevent clean clothes from getting unnecessarily damp or muddy.
Modern tents come complete with many useful features, but blocking out early-morning daylight isn't usually one of them. Being forced awake to entertain small children at daybreak can be pretty brutal so investing in sleep masks for the whole family might prove to be a real sanity-saver. Obviously sleep masks aren't advisable for babies and toddlers but you could try positioning a portable blackout shade by their cot to reduce the glare.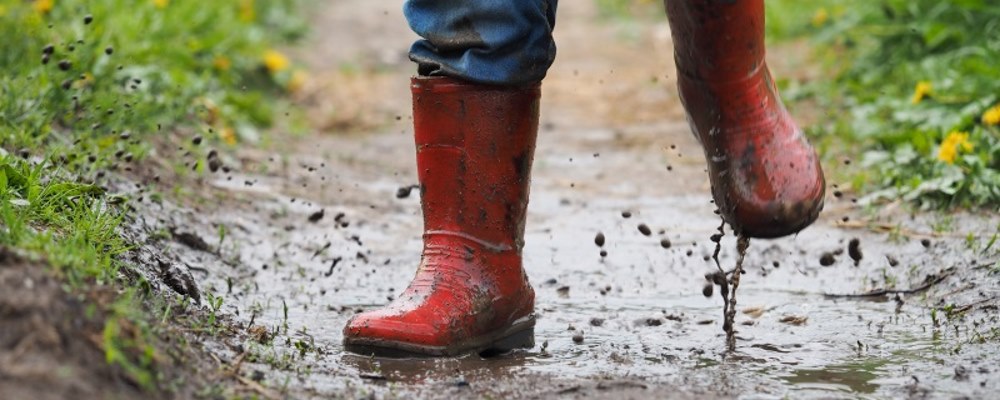 Weatherproofing
Always check the weather forecast before you go and be realistic about whether camping in gale-force conditions or 30-degree heat is a good idea! If in doubt, pick a site that isn't too far away – worst-case scenario, you can always pack up early and come home.
Although there is nothing better than glorious sunny weather for a camping trip, it is easy to get sunburned without realising when you are outside all day. Make sure you pack some high-factor sun lotion and sun hats and, if possible, create a shady play area for the kiddies so they can escape the fierce midday rays.
Extra blankets always come in handy on a camping trip. Aside from being great for snuggling up in around the campfire, they also double up as makeshift sun shades, pillows, picnic blankets or even play dens.
Wet-weather gear is also worth its weight in gold if the heavens open. Drying sodden clothes can be a real chore in a tent so prevention is definitely better than cure here. Dress kids in lightweight waterproofs and they can enjoy the great outdoors regardless of the weather, whilst keeping clothes dry underneath.
Even if the weather is glorious in the day, temperatures can plummet at night so take plenty of layers to wrap up in. It's also advisable to pack a hat and gloves just in case. Fingers crossed you won't need them but it's better to have them unused in your bag than not at all.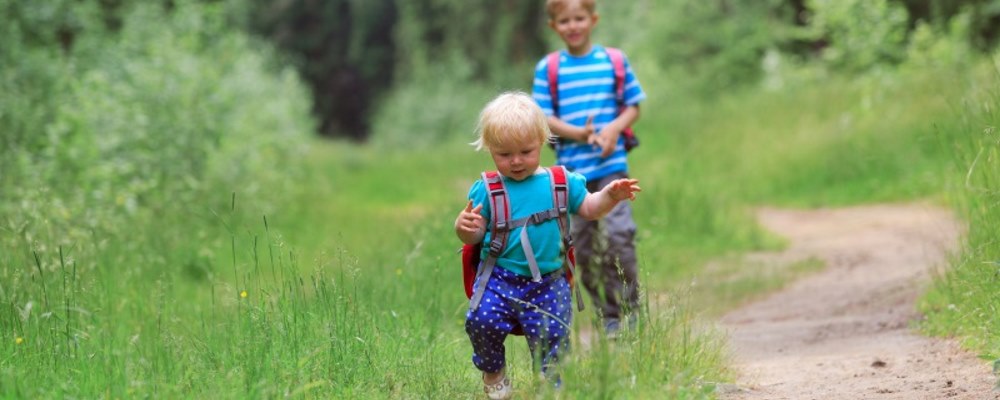 Entertainment
Don't forget to pack some games suitable for playing outside the tent – balls, skipping ropes, bubbles, Nerf guns, boules etc. can provide hours of entertainment. Calmer activities such as board games, colouring books and playing cards also provide welcome entertainment in the evenings or if rain stops outdoor play.
Windbreaks can be handy for cordoning off a play space for children whilst obviously providing protection from the wind.
Another great way of containing tiny tots who may be prone to wandering is to multi-task their travel cot as a play pen.
Research the area and see if there is anywhere local that could provide a family-friendly outing. While away the walk by creating a simple scavenger hunt, challenging the kids to tick off sightings of streams, flowers, wildlife and landmarks.
Finally, don't forget to bring a couple of home comforts such as favourite toys or special blankets to help your little ones settle into the unfamiliar environment.