A boot liner is an essential piece of kit if you regularly transport dirty or large items in the boot of your car, such as pets, sports equipment or other potentially damaging goods. Not only does a liner help to keep the inside of your boot clean, but it also protects against damage to the interior of your vehicle. In order to get the most effective performance from your liner, it is vital to ensure it is correctly fitted, so follow our handy guide to installation.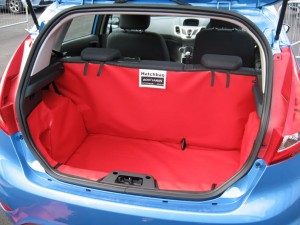 How to fit a car boot liner
It couldn't be easier to fit your specially designed boot liner. Simply unfold your Hatchbag, ensuring that the base sits neatly in the boot. If you have Velcro-friendly carpet, the liner can be secured directly to this. Alternatively, you will need to apply self-adhesive Velcro tabs to the plastic or metal of your boot interior. Spread the liner over the base of the boot, and secure the back in position around the rear headrests, using the Velcro straps. Once the back of the liner is in position, secure each of the side panels with the Velcro tabs provided to either the carpet or the plastics.  Full Fitting Instructions will be sent out to you with your liner.
If you often transport wet dogs or muddy outdoor sports equipment, your boot liner may become dirty. To ensure your liner stays in great condition, simply wipe it down with a wet cloth to remove mud, grease or dirt.
Removing the boot liner
When it's not in use, it is simple to remove your boot liner. Loosen the Velcro tabs around the base and side panels, before undoing the straps around the headrests. Fold the side flaps down, followed by the back of the liner, before removing it carefully from the boot of your vehicle.
If you regularly take your liner in and out of your vehicle, you may wish to consider our 'Frequent Use Velcro Patches', which reduce the fluffing effect on the carpet. See our Accessories section for more information.
Each Hatchbag is designed to follow the contours of your specific model of vehicle, so you can be assured that getting the perfect fit every time is quick and simple. Check out our video for more information about fitting your car boot liner.
For more information, watch our video.