If you're a regular visitor of our blog, you'll know we're somewhat enthusiasts when it comes to our four-legged friends. After all, like Frederick the Great of Prussia once said, "a dog is a man's best friend".
But, did you know just how much a dog can benefit from activities carried out with us humans?
There are many activities that can help a dog. For example, dogs that regularly exercise are less likely to become bored. Dogs that suffer from boredom are more inclined to carry out destructive behaviour in the home or worse still, suffer from mental issues.
At Hatchbag HQ, we've shortlisted 6 great activities you can enjoy with your pet pooch.
You can also check interesting pet articles on Petz.
Dog parks  
Parks that allow dogs to roam free are becoming increasingly popular, especially in cities or built up areas. For the most part, parks are securely fenced, have safety signs posted with park rules and require you to pick up after your dog if it makes a mess, so be sure to carry doggie bags with you.
Dogs that are sociable enjoy meeting other dogs, and you might even make some new friends too? 
Doggy Day Care
If you work long hours or if you have just one dog that often spends long periods of time on his/her own, it might be worth looking into a doggy day care service.
Doggy day care can best be explained as a short-term boarding service for dogs. Usually, dogs will stay for the day, and the whole experience differs from kennels and boarding facilities. The whole day is centred around play, activities and exercise, keeping the dogs entertained rather than simply providing accommodation.
Fetch 
Playing fetch is a win-win for your dog. After all, dogs love both playing and pleasing their humans, and playing fetch involve both of these things.
Some dogs instinctively understand how to play the game, realising the need to retrieve the ball in order to run again, however, some don't. So, you might need to do a little training with your pooch.
Here's a great blog post that can help you train your dog to be a fetching pro.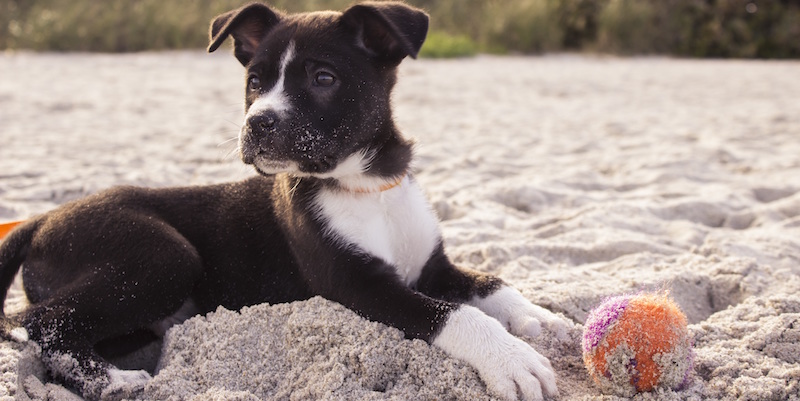 Hiking
From moorland to canal towpaths, coastal walks to mountain peaks, the UK boasts a variety of stunning walks to enjoy with your four-legged friend. Better still, if you come across a National Park, you'll more than likely come across rare wildlife too.
Check out the National Parks website to find a great route near you.
Holidays 
Gone are the days when you'd need to banish your beloved pooch to the kennels when you go on holiday. These days, dog-friendly hotels are aplenty, with some even offering pet services such as walking & playtime, just for dogs.
Go for a drive
For some dogs, a car ride can be the highlight of their week, however, not all dogs love the car. For some dogs, a car ride is one of the most nerve-wrecking experiences that leaves them shivering and tense.
If your dog does love the car, then be mindful that they might appreciate the ride if you're just planning on going for a short drive.
Note: Please don't ever leave your dog in the car alone and make sure you bring water, food and their lead just in case you do end up needing to stop anywhere.
Whatever activity you end up doing with your doggies, we would LOVE to see. Send us a snap or tag us in your picture by finding us on @HatchbagCompany on Twitter, @thehatchbagcompany on Instagram and The Hatchbag Company.