Before you head out on your fishing trip, it's important to ensure you have gathered the right equipment.    Though a great deal of fishing tools are tailored to certain styles of fishing, there is still a list of key items any keen fisherman would do well to heed.  Discover our essential equipment for fishing: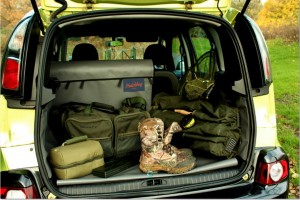 Rods
Usually made from fibreglass or carbon fibre for increased pliability, modern fishing rods are categorised on a range of characteristics. Their responsiveness to touch, how well they bend and their core strength are all factors in choosing the right rod, given fishing conditions and personal preferences.
Reels
Whether it's pulling in a fish or preparing for another cast, the reel allows for smooth and rapid movement of the line along the length of the rod. High-end reels incorporate a 'V' spool for an even line-lay and drag systems to avoid over-spooling and being overpowered.
Line and Poles
These tools are the fisherman's connection with his quarry. They are seen very much as workmanlike items compared to shiny reels and lures, but it is crucial to get them right. Lines come in different materials, such as braid and mono filament, and are classed according to variables such as strength, elasticity and visibility.
Hooks
Upon biting the bait at the end of the line, a fish becomes hooked through their upper lip. Shape, size and materials are variables that can be customised, depending on the type of fish intended for the hook.
Head Torch
The advantage of a head-mounted torch is that fishing is possible in poorer light without occupying one of your hands. And passers-by, such as cyclists and motorists, are alerted to your presence.
Boot Liner
When transporting a large amount of equipment that is likely to get dirty as well as wet, a good boot liner is key. A good-sized sheet of hardy material will ensure a minimum of damage and spillage inside your car's boot.
Waterproofs
The fun of fishing can diminish very quickly if adverse weather sets in. Waterproof jackets and trousers at least keep the rain off, and layers will provide your body with good insulation.