On the rare occasion that the UK is covered under a blanket of snow, what else better is there to do than head to the hills and test out your sledging skills?
With winter fast approaching, we're getting prepared for that snowy forecast. Here at Hatchbag, we have compiled a list of the UK's best sledging destinations for cost-free winter thrills!
Cold Fell, Cumbria
Cumbria is blessed with several hills, making it an ideal location for sledging in wintry conditions. The slope located on the road between Ennerdale Bridge and Calder Bridge is a well-known hotspot for sledging fanatics. It's a good long slope and is even steep enough for you thrill seekers to pick up some speed but not too steep to walk back up. And don't worry you're in for clear run without any hedges or dry stone walls obstructing your way.
Alexandra Palace, North London
This is the perfect sledging spot for families this winter. With a varying degree of slopes, there is something to suit all ages and abilities. There are smaller more gentle runs for the younger members of the family as well as more challenging slopes for the adrenaline junkies. An added extra to the winter fun is the fantastic view from the top. Before hurtling back down the slopes, you can take in the views of famous landmarks such as St Paul's Cathedral and the Olympic Stadium.
When your fingers and toes are numb and it's time to call it a day, head to the Phoenix Pub in the palace complex at the top of the hill and treat yourself and the kids to a hot chocolate to warm up!
Urra Moor, North York Moores National Park
Urra Moor has to be one of the ultimate sledging destinations in the UK. With designated areas for different abilities and chosen modes of transport, there is something for everyone! It seems that this place was made for sledging. So, next time the UK is blessed with snowfall, head to Urra Moor and test out your sledging skills.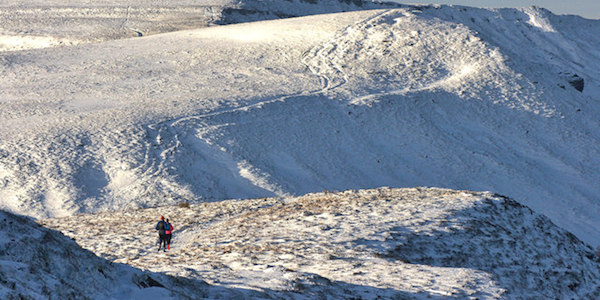 Capel Curig, Snowdonia
This sledging hotspot lies in the heart of Snowdonia. Not only is this area a picturesque delight, but, it's sloping hills provide a perfect surface to sledge in snowy scenes. As you fly across the snow and down the hills you will have a great view of the Snowdon Horseshoe and the surrounding lakes.
Aviemore, Highland
In Aviemore in Scotland, they take sledging to the next level. Leave your plastic sledge behind because here, they give you a real sledging experience. Situated at the foot of the Cairngorm Mountain Range is The Cairngorm Sleddog Centre. The centre offers a range of activities for families including Sleddog Trips and Safaris. They teach you how to sledge, look after the rig and the dogs, giving you the ultimate sledging experience.
Visit sled-dogs.co.uk for more information and prices.
Amongst all the excitement, don't forget to take your Hatchbag boot-liner to protect your boot from those snowy sledges and wellies!