The Hatchbag Company's boot liners can protect your car boot from a range of dirt and minimize damage, and are an ideal product for dog owners.  Your car will feel the strain of taking your four-legged friend out for a long walk or day trip.  As much fun as this may be, it's not such a happy matter for your car boot on the way home when your canine returns muddy, wet and smelly!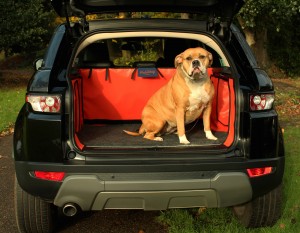 Find out why dog owners need a car boot liner:
If you love your car as much as your dog, you can protect it from the rigours of pet ownership with a car boot liner. It's the perfect solution to prevent dog-related damage.
Clean car boot
The Hatchbag Company creates boot liners specially designed to fit more than 400 models of car for it to act like a second skin, so that no dirt, grit or fur can sneak through any gaps. These are easy to fit and remove with a simple but secure Velcro strap system. With one in place, you won't have to go for a full valet every time your dog travels in the boot of your car, as you can simply wipe it down.
No smells
Protect your boot from doggy odours permeating your car with an odour control mat. The mat has a quilted blanket which contains activated carbon to absorb and eliminate odours. Simply place this in the boot of the car, it will keep your car clean and fresh and provide a more pleasant travel experience for your dog.
Dog safety in the car
The car boot liner is not just an aesthetic aid but will also help to keep your furry friends safe and comfortable while they travel. With a secure fit, the liner will hold in place while your dog is sitting or standing in the boot and you can even add mats to fit on top of it for extra protection.  You could also opt for a hatch bed which can be placed onto the boot liner which is soft and very comfortable for dogs.
With a boot liner in place, your car boot will remain clean and fresh even after transporting the muddiest dog!  This is a high-quality car-protection product that no dog owner who drives should be without.