A new member has joined the family albeit they may be small, hairy and full of beans, when the question pops into your head, how are you going to keep the car boot clean with a puppy on board. One things for certain your boot will end up being full of dog hair and dirt, which means you will have to spend a lot of your time either hoovering or cleaning it or the hair itself will end up getting entwined into the boot carpet making it nigh impossible to remove. So, here is where Hatchbag's boot liners come in.
And to see how well our boot liners suit a new puppy, we have Eddie the Westie, an eight month old puppy, who is very active and lively to be our tester. His owner has a Citroen DS4 and has chosen a red boot liner with a rear plus, which allows her to fold the backseats down all together should she wish. This is the perfect way to protect her boot from little Eddie.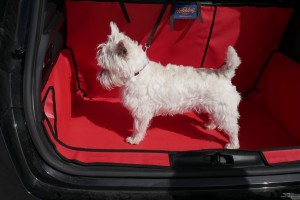 Puppies are very nosy and always want to look and touch everything around them. So, if your puppy is like Eddie and enjoys putting his paws on the back of the seats to peek outside the front window then it won't be too long until the back of the seats are covered in doggy hair or dirt from mucky paws. But this can all be protected with a boot liner.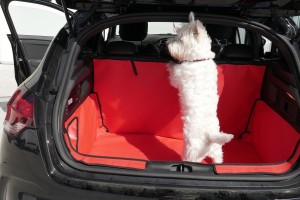 Or it may be that after a long stroll in the park your little furry friend wants to take a rest by nestling his bum against the backseats and therefore, you want to protect your boot.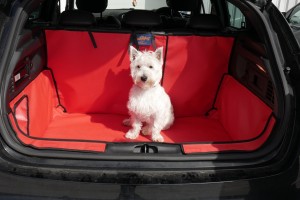 Our boot liners also suit puppies who travel in a dog cage. As a dog cage is open at all sides then I can guarantee that in a matter of seconds of your puppy being in the cage in the car, their hair will end up getting everywhere – it is astounding just how much a little thing can spread so much hair. But with our boot liner you will not need to worry and your pooch can shake away without you thinking, oh no I am going to have to clean my car boot again!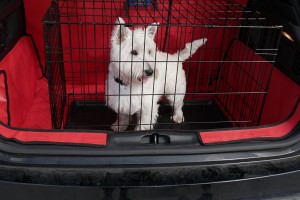 So, as you can see our boot liner is a perfect match for a puppy, Eddie himself has given us the paws up, in keeping your car boot clean from dirty puppy paws and puppy hair. And your little nosy four legged friend can roam around the boot or rest his bum on the sides of the boot without making a mess.
So, why not go and find your vehicle here and choose the perfect colour boot liner for you and your furry friend!