Car boot liner accessories | What are the best accessories you should consider for your car boot liner?
From travelling long distances to the everyday commute, there are a variety of elements that may cause harm to your car boot, including dogs and large items like prams. To combat this issue, many drivers choose to fit custom boot liners; these have been designed specifically for the car make and model and will provide strong protection. But why not protect your boot liner as well for extra support?
At Hatchbag, our custom boot liners are compatible with a wide range of accessories and add-ons to enhance their performance.
This guide will explore why car boot liner accessories are beneficial for various types of vehicles, and the most popular boot liner accessories you should consider.
Find out why you should consider a car boot liner accessory, and how they can benefit you.
Explore the car boot liner accessories we provide, and the features of each for your vehicle.
Read the most common questions on car boot liner accessories.
What are the benefits of boot liner accessories?
Boot liner accessories provide added protection for interior areas, such as your bumper, the top of your seats and the tailgate. This helps ensure that your vehicle is fully protected; making it the ideal solution for dog owners and drivers that regularly travel with large items (such as prams) or typically get their boot dirty.
Find out more about cleaning and maintaining your car boot liner and interior here.
At Hatchbag, our accessories have been designed specifically to be compatible with our custom boot liners; for each vehicle make and model. Various boot liner accessories are. Interior items such as our bumper flap, tailgate flaps and boot mat each offer the same quality and design, and should be ordered at the same to be securely sewn into the boot liner.
If you are interested in our custom boot liners and accessories, contact Hatchbag today.
What are the most popular boot liner accessories?
There are a variety of boot liner accessories available that simultaneously protect your car boot and liner, whilst also providing interior styling.
Click on a boot liner accessory below to jump to that section:
Boot liner extension
For a fully protected boot, consider a boot liner extension. These accessories provide extra cover when the interior seats are folded flat; ensuring the area up to the back of the front seats is completely protected.
Benefits of a boot liner extension include:
Carrying large loads of rubbish – such as travelling to the tip.
Storing hiking and outdoor equipment, such as mountain bikes and fishing gear.
Camping – large space to have all equipment, and protect the boot liner from dirt when leaving.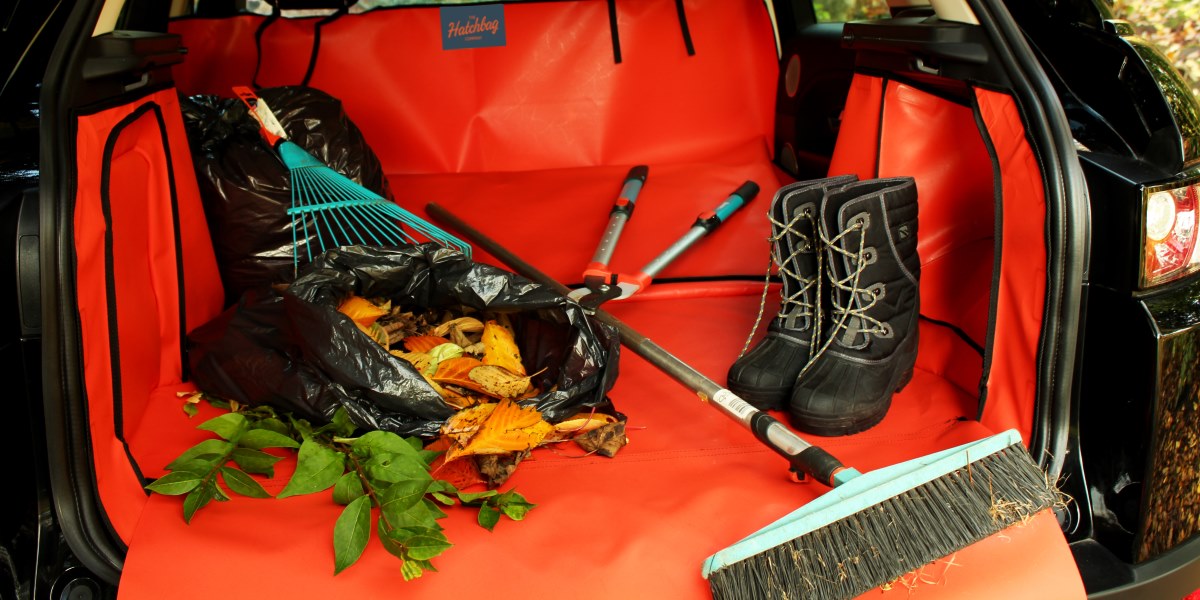 If you are interested in buying a car boot liner extension, simply look for optional extras when choosing your car manufacturer and model.
Browse our custom boot liners here and find accessories for your vehicle.
Bumper flap
A bumper flap is an extension of your boot liner; protecting the bumper when loading or unloading. This ensures your car's interior and bumper are not scuffed or damaged. For drivers with dogs, a bumper flap can prevent scratches when a dog jumps in or out of the boot.
The bumper flap is attached by hook and loop fastener to the rear of the liner, meaning it is easy to put on when you open the boot and remove it once loaded. After, simply fold the flap back up and store it neatly in the car.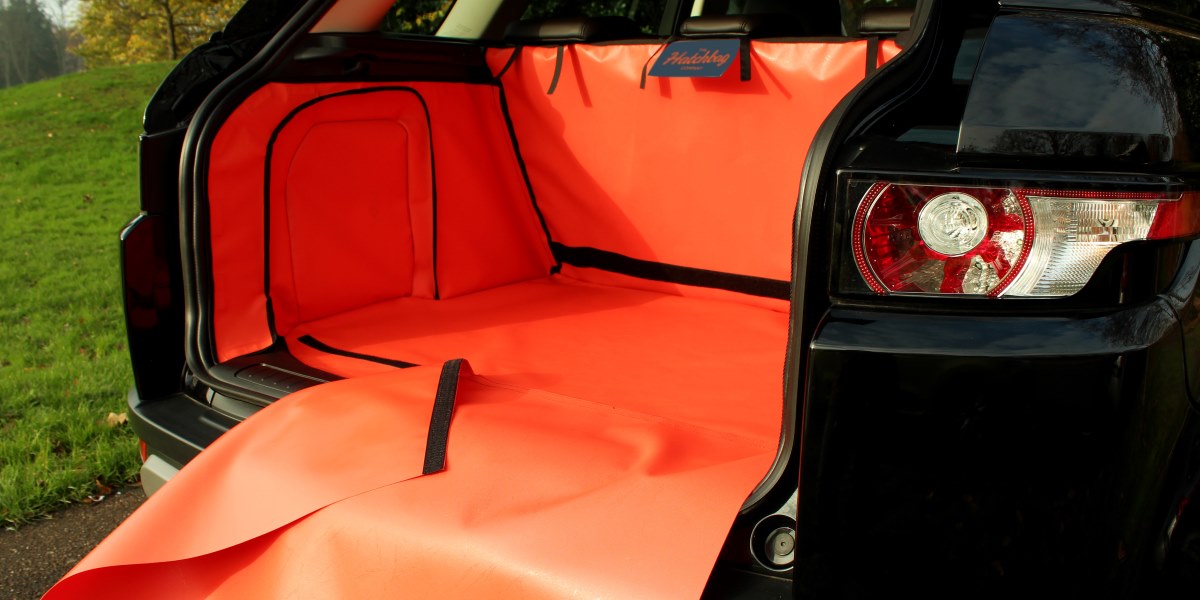 Benefits of a bumper flap includes:
Cars with dogs – to ensure no scratches or damages on the boot.
Vehicles with large bumpers
Rear seat flap
To protect your seats, consider a rear seat flap. Seat flaps will fold over the back of your seats and add protection to the top of your seat, and your headrests. It can also be used to extend the length of your liner when folding the rear seats down in conjunction with a rear plus or rear split liner.
Benefits of a rear seat flap include:
Complete protection on the back seats
Ideal for cars with prams – find out more about the best car boots for prams here.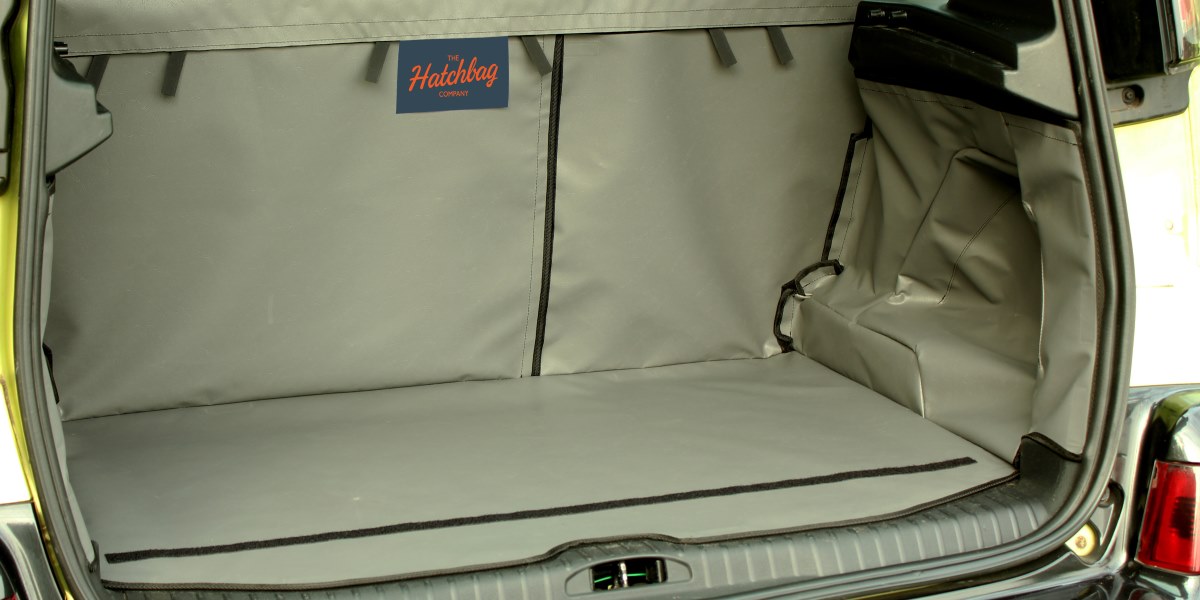 Like our boot liners, our seat flaps are custom-made to fit your car model. You can add a seat flap to your basket on your model's main boot liner product page for your model.
Browse through our custom boot liners here.
Tailgate cover
Tailgate covers are used on the back door of your car, and are custom-built to fit each specific model and boot door shape.
Benefits of tailgate cover accessories include:
Protects the vehicle when carrying large loads
Custom-built to fit the roof of the boot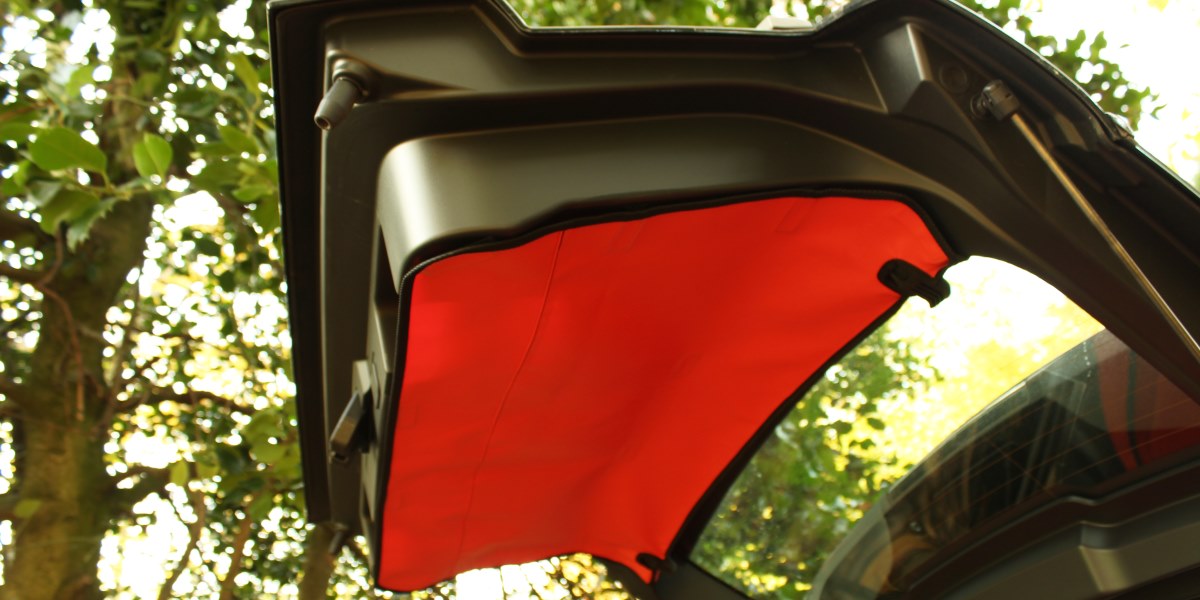 There are a variety of different car boot liners. Find out more about the benefits of our custom boot liners here.
Odour boot mat
To help prevent smells from building up in your car, Hatchbag provides odour boot mats, with an active charcoal ingredient. This beneficial feature absorbs and reduces nasty odours from travelling with pets or dirt.
Benefits of an odour mat include:
Provides extra comfort for dogs
Tailored to fit specific vehicle makes and models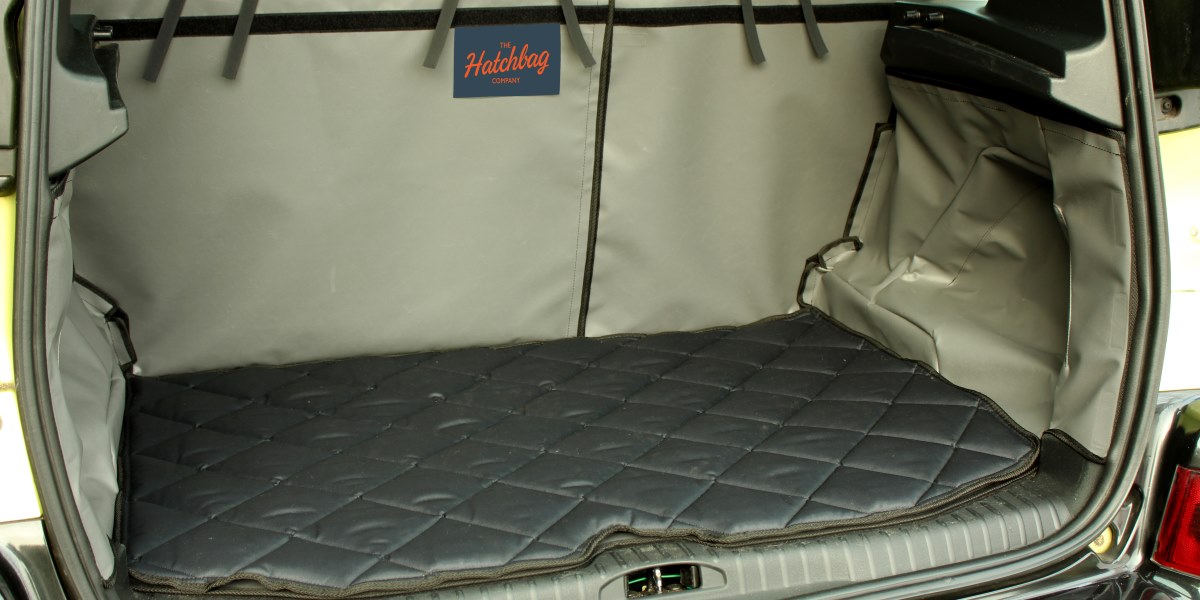 We also offer them in a generic size range (available in 3 standard sizes) which are more suited for use around the house or on the car seats.
Rubber mat
For protection against heavy usage, our custom rubber boot mats provide extra protection, ensuring large items do not slip and damage the boot. The stud design reduces slippage during transport and removes the risk of snagging when loading and unloading.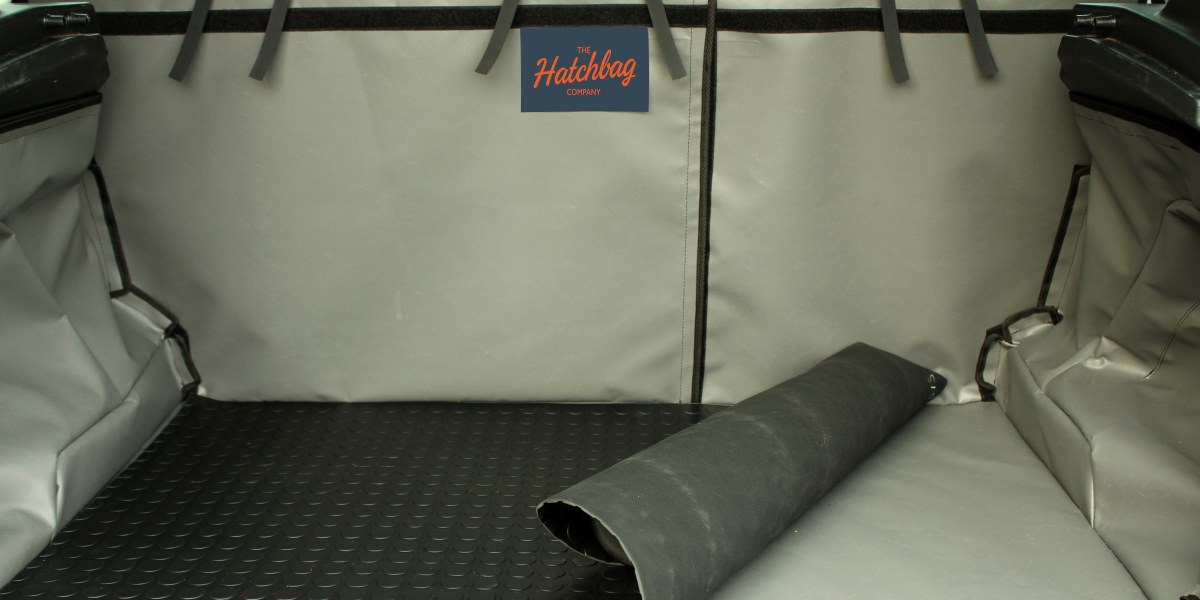 Our rubber mats are only available in black and are designed to sit over the base of the Hatchbag boot liner.
Find your custom boot liner and rubber mat at Hatchbag today by entering your make and model.
Hatchbed mat
The Hatchbed mat is specially designed for dogs. It has a unique non-slip ribbed rubber backing that won't slide around as your dog gets in or out of your boot or during transit.
The mats are designed to provide extra comfort for your dog, with a soft pile approximately 25mm deep. Vets and pet care professionals recommend the product to offer your dog the most comfortable ride in the back of your vehicle.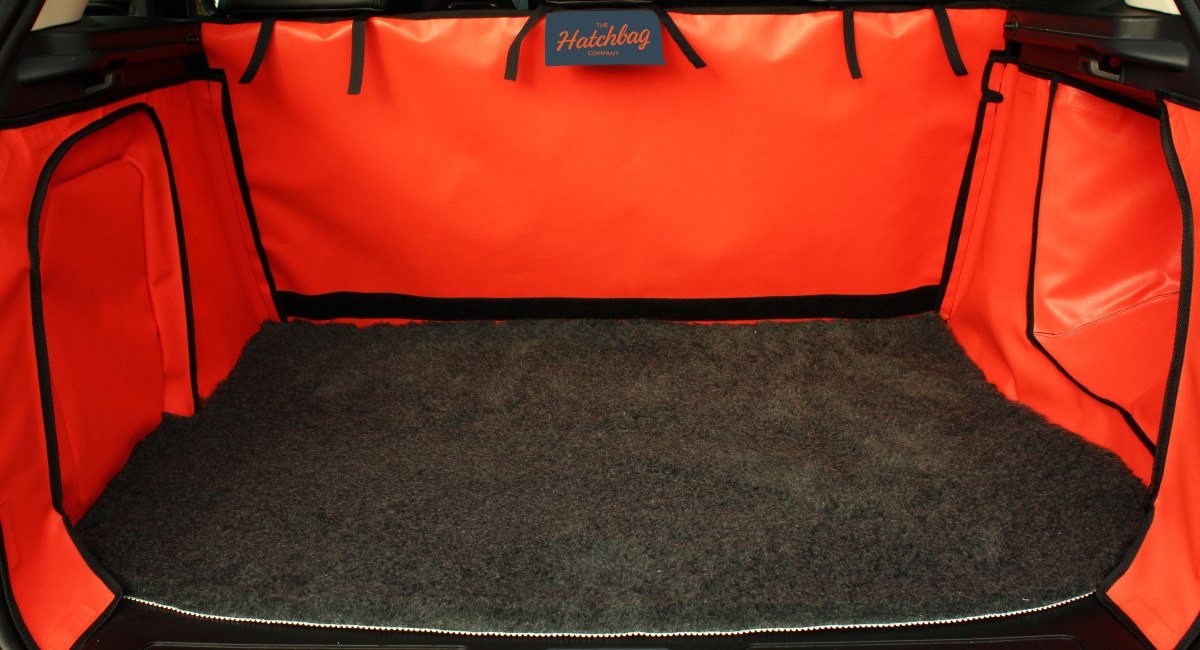 Find the right boot liner and accessories for your car with Hatchbag today

Hatchbag provides various custom boot liners for various makes and models. If you cannot find your exact manufacturer and model, please contact Hatchbag today to find a boot liner that is most compatible with your vehicle.
Contact Hatchbag today to find out more information.
Frequently asked questions
How do you find the year of your car?
Depending on when your car was registered, there are different ways in which the year can be identified using the number plate.
Find out the year of your car by using Hatchbag's interactive tool here.
Related content