Audi Car Boot Liner Information
Audi Car Boot Liner Information
Finding the right boot liner for your Audi can be a hassle. This guide is designed to compare the types of boot liners available, offer fitting advice and help you identify your car model.
In this guide
Manufacturer-made—these are boot liners the car manufacturer has designed and produced itself. Audi produces its own boot liners.
Custom-made—these are made by independent businesses. Hatchbag designs and creates custom-made boot liners.
Comparing manufacturer-made to custom-made
Material

Shape

Fitting

Protection

Price

Manufacturer-made

· Standard materials (e.g. rubber mats etc.)

· Designs are often trays or mats

· Won't protect boot walls

· Designed to fit boot.

· Only available for specific car models

· Dog hair

· Small spills

· Mud/dirt

£100+

Custom-made*

· Good-quality material such as PVC

· Yes

· Moisture can be easily wiped away

· Designed to perfectly fit your boot

· Dog hair

· Large spills

· Protects walls

· Protects backs of seats

£100+
*Custom-made information is based on Hatchbag designs. Not all custom-made products will feature these benefits.
Audi manufacturer boot liner designs
The Audi boot liner range comes in two designs.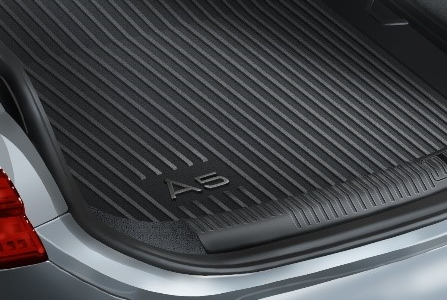 Floor mat
The Audi boot liner mat is a standard design. Floor mats are designed to protect your boot against spills and damages without losing boot space. However, they don't protect the boot walls or the car seats. They also only come for a limited model range, so you will need the right car model to be able to use these mats.
Pros and cons
Pros

Cons

· Doesn't reduce space in the boot

· High edge to help stop spillages

· Moulded inlay to prevent boot contents from sliding

· Won't protect boot walls or back of seats

· Doesn't include accessories for added protection/comfort

· Only available for A8 or A7 models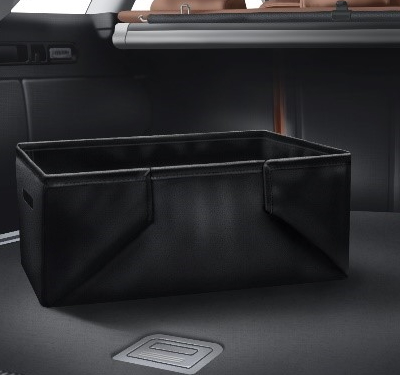 Foldable boot box
The Audi foldable boot box provides storage while also unfolding to become a protective underlay.
Pros and cons
Pros

Cons

· Double-use design as both box and underlay

· Easy to assemble

· Waterproof polyester material

· Underlay will protect very little of the boot

· Box design only offers 32 litres of storage

· Takes up boot space

· Polyester material doesn't offer the same level of protection as high-quality PVC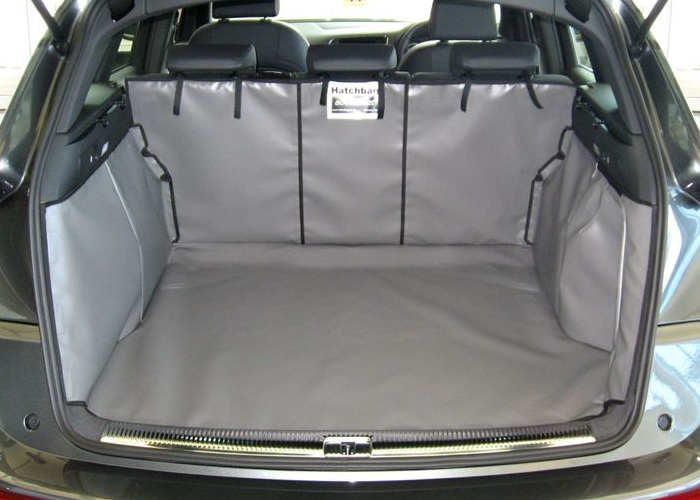 Hatchbag custom-made Audi boot liner designs
Hatchbag creates tailor-made boot liners only.
The Hatchbag boot liner is designed to fit your car's boot perfectly. It is made from high-quality PVC which is resistant to damage, dirt and water. The boot liner protects a larger part of the interior, including boot walls, backs of seats and the bumper (with additional accessories). It also works well with other interior accessories such as pet cages and beds.
Pros and cons
Pros

Cons

· Designed using the latest scanning technology, which ensure it fits perfectly

· Protects your boot and your cargo

· Pet-friendly

· Several accessories are available for added protection and pet comfort

· Lifespan of at least 7 years

· 1-year warranty

· Available in 7 colours

· Can cost a fraction more but longevity means custom-made is cheaper in the long run
Audi Car Boot Liner Information
View all our audi boot liners here.
A1
| Model/year/features | How to identify the model | Fitting instructions |
| --- | --- | --- |
| | | |
| | | |
A2
| Model/year/features | How to identify the model | Fitting instructions |
| --- | --- | --- |
| | | |
A3
| Model/year/features | How to identify the model | Fitting instructions |
| --- | --- | --- |
| | N/A | |
| | N/A | |
| | N/A | |
| | N/A | |
| | | |
| | | |
| | | |
A4
| Model/year/features | How to identify the model | Fitting instructions |
| --- | --- | --- |
| | N/A | |
| | N/A | |
| | | |
A5
| Model/year/features | How to identify the model | Fitting instructions |
| --- | --- | --- |
| | N/A | |
A6
| Model/year/features | How to identify the model | Fitting instructions |
| --- | --- | --- |
| | | |
| | N/A | |
| | N/A | |
A7
| Model/year/features | How to identify the model | Fitting instructions |
| --- | --- | --- |
| | N/A | |
Q2
| Model/year/features | How to identify the model | Fitting instructions |
| --- | --- | --- |
| | | |
Q3
| Model/year/features | How to identify the model | Fitting instructions |
| --- | --- | --- |
| | | |
Q5
| Model/year/features | How to identify the model | Fitting instructions |
| --- | --- | --- |
| | | |
| | | |
Q7
| Model/year/features | How to identify the model | Fitting instructions |
| --- | --- | --- |
| | | |
| | | |
RS3
| Model/year/features | How to identify the model | Fitting instructions |
| --- | --- | --- |
| | | |
S3
| Mode/year/features | How to identify the model | Fitting instructions |
| --- | --- | --- |
| | | |
| | | |
| | N/A | |